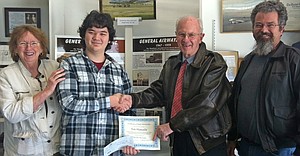 Hood River Valley High School student Eric Hamada has been named as the first recipient of the Callas Trust Flight Scholarship, administered by the Western Antique Aeroplane & Automobile Museum.
The inaugural year's award totaling $2,750 comprises $2,000 from the Callas Trust, $500 from WAAAM and a complete private pilot training kit of books and materials ($250 value) from Classic Wings Aero Services at Ken Jernstedt Airfield/Hood River Airport.
The scholarship will be awarded each year to a local high school junior or senior selected for his/her interest in aviation and an intention to make aviation a career.
The Callas Trust has Oregon aviation roots: Guss and Georgette Callas founded General Airways after World War II. Callas saw a need and began flying fresh vegetables to Alaska from the home base in Portland then returning with fresh Alaska fish and crabs.
General Airways' "Roseliner" is the subject of a permanent display at WAAAM, highlighting this aviation story.
Trustee Dale Harris, owner of Lavender Valley farm and nephew of the Callases, is a retired airline pilot himself.
Harris noted that, "Guss and Georgette loved everything about aviation and the business of flying, and we believe passing that passion on to the next generation by helping to pay for a bit towards a pilot's license is the way to go."
More like this story
Latest stories
Latest video:
I Can't Keep Quiet singers at "Citizen Town Hall"
'I can't keep quiet,' sing members of an impromptu choir in front of Hood River Middle School Saturday prior to the citizen town hall for questions to Rep. Greg Walden. The song addresses female empowerment generally and sexual violence implicitly, and gained prominence during the International Women's Day events in January. The singers braved a sudden squall to finish their song and about 220 people gathered in HRMS auditorium, which will be the scene of the April 12 town hall with Rep. Greg Walden, at 3 p.m. Enlarge