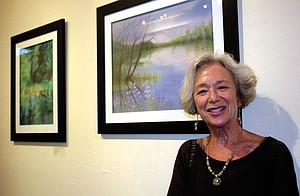 The 2013 Gorge Artists Studio Tour featuring 29 regional artists in oil, watercolor, pastel, ceramics, glass, sculpture, jewelry, fabric and more, takes place April 12, 13 and 14.
In the studio tour, visitors meet the artists in their places of work and see demonstrations of how art work is created.
Tour maps are free and available at Waucoma Bookstore in Hood River. For more information about the tour and participating artists, visit www.facebook.com/gaos.tour or gorgeartists.blogspot.com
Here is the full list of artists.
Hood River:
Christine Knowles, pastel
Carolyn Crystal, glass
Aimee Herring Brewer clay/ceramics
Melanie Thompson, ceramics
Ken and Liza Jones, wood
Kathryn Watne, sculpture
Sarah Burr Arnold, silver
Cathleen Rehfeld oil painting
Kelly Phippsmetal
Lisa Peterson, mixed media sculpture
Karen Watson pastel
Elizabeth See, oils
Charlene Fort, glass
Bill Sturman, Mt. Hood, watercolor painting
Mosier-Rowena:
Jan Byrkit, clothing; Donna Bender, photography
White Salmon:
Sorcha Meek, mixed media, prints
Cyndi Strid, mixed media, glass
Ann Fleming, sculpture
Peggy Ohlson, oil painting
Jo Dean Sarios, jewelry
Linda Steider, glass
The Dalles:
Jan Turner, photography
Luise Langhenrich, fiber, texteils
Mary Rollins, watercolor
Margaret Burkhart, mosaic
Stephanie Johnston, fused glass jewelry
Beth Poirer, weaving
Charlott VanZent-King, prints, painting
More like this story
Latest stories
Latest video:
I Can't Keep Quiet singers at "Citizen Town Hall"
'I can't keep quiet,' sing members of an impromptu choir in front of Hood River Middle School Saturday prior to the citizen town hall for questions to Rep. Greg Walden. The song addresses female empowerment generally and sexual violence implicitly, and gained prominence during the International Women's Day events in January. The singers braved a sudden squall to finish their song and about 220 people gathered in HRMS auditorium, which will be the scene of the April 12 town hall with Rep. Greg Walden, at 3 p.m. Enlarge