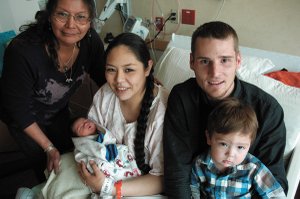 Niko Peterson was in a big hurry Sunday. So much that all 7 pounds, 1 ounce of him demanded an early entry into the world. Niko was born in his parents' car on Sunday at 10:35 a.m. on State Street near 10th.
"We will always remember the exact spot because of the beautiful tulips growing in the yard," said Niko's mother, Letitia George of Snowden, Wash. Her mother, Liz Frazer, was driving the car and stopped it on State Street as Niko suddenly crowned and slipped out of Letitia in the front seat of the car.
"It was like being in a scene from a movie, except it was really happening to us," Letitia said.
"This day was nothing like we expected," said her fiancé and Niko's father, Daniel Peterson. "We just thought we'd get her to the hospital a day early, since she was having contractions, and have a gradual leading up to the birth."
The "intro" to such a scene was grandmother Liz Frazer driving fast down Snowden Road, where family lives, while Letitia sat in the front seat, feeling painful contractions. Daniel comforted her from the back seat. The camera would cut to an "H" hospital sign in White Salmon, and Daniel saying something like, "We have to get to Hood River; there's no longer a maternity ward at Skyline (Hospital) in White Salmon."
The camera would pick up the distinctive markings of the county deputy's patrol car, around the next curve.
"I was going 50 in a 35 mile zone, and sure enough, there was a cop behind us. His lights came on and I pulled over and got out of the car and ran up and told him, 'We're having a baby!' He said, 'You're having a baby? Well just be careful,'" recalled Liz. Then it was through White Salmon, and a shortcut:
"We drove down Dock Grade Road — the wrong way," Liz said. Daniel added that they drove with lights flashing and encountered three cars on Dock Grade. "It was safe; they saw us and we had plenty of room." By now Letitia had told her mom to slow down, as the contractions had eased. But once on the Hood River Bridge, the contractions increased again.
"I was in pretty bad pain at this point," Letitia said. Liz speeded past the tollbooth, calling out, "Sorry, baby on the way, we'll be back!" Close-up on the shocked, then understanding, expressions of the tollbooth workers. And on through the streets of Hood River, fairly quiet on a Sunday morning, but more than one stop sign blown and a car or two swerved around.
"I came to the stop sign at Ninth and State and I looked and made sure no cars were coming, and just rolled right through," Liz said.
It was then that the momentum of maternity would not cease or wait.
"The baby is crowning!" Letitia called out, and Daniel said, "We're almost there (to the hospital). Hold on!"
Letitia answered, "No, it's the baby. Baby's here!"
All of this was not a movie, it really happened; but you can picture the scene: Liz stops in the car in the street and Daniel jumps out and opens up the passenger door, kneeling to help Letitia. Inside the mother's sagging pants is Niko. Liz tells him to put the baby on Letitia's belly, and Daniel realizes the umbilical cord is wrapped around Niko's neck. He uncoils it and checks the baby's mouth for obstruction.
"I was thinking, 'Cry, please, baby,'" Letitia said, and a second later Niko let out a wail.
"That was the only thought I had — wanting to hear that sound!" Letitia said. Daniel put a blanket over mother and baby, and the family continued on to the hospital.
And then camera two picks up the fast-responding ER team at the side of the car. A smiling Letitia hands her baby to a nurse, while another stands ready with a newborn's stocking cap.
"They came right out with the gurney and everything and they put her on it and took her right inside," Liz said.
At this point the camera would fade as the ER team checks mother and son's vitals, gets both cleaned up and ready to go upstairs to the hospital birthing center, where they would stay for two nights. Doctors would tell Daniel and Letitia that baby's blood work checks out, that everyone is healthy, and they would be scheduled for release on Tuesday.
(This is only the second birth in a car en route to the hospital that nurses in the birthing center can remember, though babies have arrived in the lobby and in the ER restroom.)
In the next-to-last shot, the family would share a laugh as Letitia would apologize, several times, "for making such a mess in the car," and then look again at Niko's round face and full head of dark hair, and remark how "mellow" the boy seems considering what a unexpected introduction he had to the world.
All this was not a movie, it really did happen in this way, but if it were a movie, over the final credits the family would be seen admiring the birth certificate that they had asked to list as place of birth: "State Street near 10th."
An alternative ending might be the family knocking at the door of the home with all the tulips and asking, "Do you know what happened in front of your home on Sunday?"
Sure to make the cut will be the scene, described by Liz, where the family stops at that spot on the way home and takes a photo, including Niko's big brother, Kaden, 22 months, and his grandpa, Tom, who missed out on all the excitement on Sunday morning on Snowden Road, and Dock Grade, and on State Street near 10th.
And the credits would read, "This story made possible with the cooperation of Niko Alan Spencer Peterson," and, according to Daniel, "We want to thank the police, and the tollbooth people, and the staff of the hospital."
More like this story
Latest stories
Latest video:
I Can't Keep Quiet singers at "Citizen Town Hall"
'I can't keep quiet,' sing members of an impromptu choir in front of Hood River Middle School Saturday prior to the citizen town hall for questions to Rep. Greg Walden. The song addresses female empowerment generally and sexual violence implicitly, and gained prominence during the International Women's Day events in January. The singers braved a sudden squall to finish their song and about 220 people gathered in HRMS auditorium, which will be the scene of the April 12 town hall with Rep. Greg Walden, at 3 p.m. Enlarge