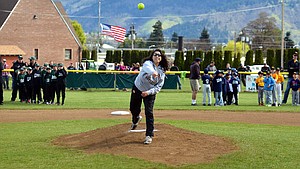 Hood River native Raquel VanNatta stepped up to the mound at Jim Winters Memorial Field, took aim at niece Madelynn Trujillo's glove and tossed the opening pitch of the Little League season on a sunny Saturday morning surrounded by more than a dozen teams from the Hood River township. With boys and girls ranging in age from four at the T-ball level to 12 at the majors level — all in full uniforms, gloves in hand — the field was abuzz with excitement and the anticipation for the day's action, and next couple months of friendly competition at the ballpark.
Prior to throwing the opening pitch, VanNatta addressed the crowd and described the impact softball had on her life as a young kid in Little League all the way through four years of college ball at Oregon State. She finished by quoting a poem.
"They call this a softball. But really, it is a threaded gift from God, revealed to each person that dares to play the game. Somewhere between your heart and hard work, you will find the thread that will unwrap the talent you didn't know you had, develop the character you will always need and transform your teammates into everlasting friends."
At that, the rainbow of uniforms from the 17 Hood River township teams scattered to various fields around the region to play their first games of the two-month season. In addition to Hood River township teams, the county lineup includes teams from Parkdale, Odell, White Salmon and Trout Lake for a total of 57 teams in all. The Hood River county league is a part of Oregon District 5, which includes hundreds of teams from 12 other leagues in the Central Oregon and Columbia River Gorge area.
With Hood River Little League in the news over the last year as one of its former board members was charged and prosecuted for embezzling more than $20,000 from the organization, current board members want the public to know the organization has recovered, has taken steps to make sure similar problems can't happen again and is in need of board members and volunteers who want to help make a difference in the lives of the area's young athletes.
"The more support we can get from the public, the more we can do for the kids," said Desi Zeller, Hood River Township secretary. "Little League is a lot more than just a sport for kids. They are out there learning life lessons with one another and their coaches. For many, it's the first opportunity they have to be on a team, compete against others and learn about practicing, teamwork and winning and losing."
With 57 teams and games running six days of the week from Trout Lake to Parkdale, the logistics of organizing the league, and the need for field space, is a constant issue in the management of the league.
Russ Gray, board member and safety officer of the Hood River township, stressed the need for a solution to the shortage of field space Hood River has.
"Limited field space is our biggest issue right now," he said. "We need a long-term solution to this. We really need someone from the County to step up and make something happen."
Hood River's home field, Jim Winters Memorial Field, is also owned by St. Mary's Church and will likely not be an option much longer, as the church has plans of its own for the land it has kept available for youth sports for decades.
The league had high but brief hopes for development of ball fields at a planned park at the corner of Barrett and Alameda, but that option didn't last long as the park was appealed and dedicated ball fields likely would not have been allowed even if the park went forward. Another option being considered is school district property on May Street, but that would only be a temporary solution since the district has plans to build an elementary school on the property in the future.
"We're unsure of the solution, but we have to think down the road and something has to happen," Gray said. "Hood River has a long history with Little League and a lot of kids have benefited from the program. Someone is going to have to step up and make something happen."
A more immediate form community involvement is needed in helping the league run this season. Umpires, Gray says, are always in high demand. The league will train volunteer umpires and set them up with any number of games they're willing to help with. Volunteers are also needed to help with concessions, field prep and maintenance and other basic duties.
"If someone is willing to help, there's always something to do," said Gretchen Winans, HRLL board member and player agent. "Little League isn't just a sport; it unites the community. I watched a T-ball game Saturday that was standing-room only. There were parents, grandparents, aunts and uncles filling the stands to watch the kids and enjoy an evening at the ballpark. Little League brings the community together in such a positive way, and for the players it's an experience they remember for the rest of their lives."
Anyone interested in volunteering or getting involved with the program is asked to send an email to hrlittleleague@gmail.com.
More like this story
Latest stories
Latest video:
I Can't Keep Quiet singers at "Citizen Town Hall"
'I can't keep quiet,' sing members of an impromptu choir in front of Hood River Middle School Saturday prior to the citizen town hall for questions to Rep. Greg Walden. The song addresses female empowerment generally and sexual violence implicitly, and gained prominence during the International Women's Day events in January. The singers braved a sudden squall to finish their song and about 220 people gathered in HRMS auditorium, which will be the scene of the April 12 town hall with Rep. Greg Walden, at 3 p.m. Enlarge