Wednesday, August 7, 2013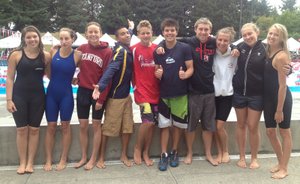 Dhani Freeland led the Hood River Valley Swim team at the recent 13-and-over Oregon Swimming Inc. long-course championships with a first-place finish in the 200 IM, a second-place finish in the 400 freestyle and several other top-five finishes in her age group.
The meet, at Mt. Hood Community College, is a springboard for swimmers to qualify for the next level of competition, which is age group sectionals next spring. Freeland, Kylie Webb and Mariah Rawding and a girls 200 freestyle relay will be among the HRVST members at that meet.
Additionally, Freeland was chosen to attend the Western Zone meet in Roseville, Calif., next week as part of the Oregon Swimming Team, which takes the best 11-14-year-olds and travels as a group to the meet.
Up next for the team, Scott Bergstrom and Connor Webb compete at Junior Nationals this week in Irvine, Calif., and Freeland swims at the Western Zones meet Aug. 7-10.
New team records:
200 free relay (Dhani Freeland, Erin Nelson, Kylie Webb, Marian Rawding): 1:56.99
200 medley relay (Dhani Freeland, Erin Nelson, Kylie Webb and Nadia Smith): 1:14.92
400 free relay (Connor Webb, Carlos Galvez, David Walker, Scott Bergstrom): 3:57.86
400 free: Dhani Freeland, 4:34.08
200 back: Dhani Freeland, 2:34.06
100 breast: Kylie Webb, 1:17.52
State meet top finishes:
Dhani Freeland (14): 200 back, 5th; 400 free, 2nd; 200 free, 3rd; 200 IM, 2nd; 400 free, 3rd
Leif Bergstrom (14): 50 free, 27th
Nadia Smith (13): 100 breast, 8th; 400 IM, 14th
David Walker (15): 400 IM, 19th
Kylie Webb (16): 100 breast, 6th; 400 IM, 8th; 200 IM, 16th
More like this story
Latest stories
Latest video:
I Can't Keep Quiet singers at "Citizen Town Hall"
'I can't keep quiet,' sing members of an impromptu choir in front of Hood River Middle School Saturday prior to the citizen town hall for questions to Rep. Greg Walden. The song addresses female empowerment generally and sexual violence implicitly, and gained prominence during the International Women's Day events in January. The singers braved a sudden squall to finish their song and about 220 people gathered in HRMS auditorium, which will be the scene of the April 12 town hall with Rep. Greg Walden, at 3 p.m. Enlarge