Saturday, August 10, 2013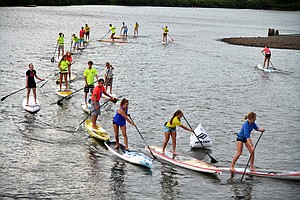 It's barely daylight on a Thursday in the middle of August, and instead of lying comfortably in bed as the summer sun climbs over the horizon, 30 teenagers are getting started with their third morning workout of the week. They arrive at the Hood River Event Site by about 6:15 to shake-off the grogginess, prep gear and loosen up before the 90-minute standup paddling workout on the Columbia River.
In its third year, Big Winds' summer SUP team now has 17 girls and 13 boys, ages 11-19. The squad is divided in two, with the more experienced/advanced paddlers on the Junior Elite Team (JET), and the others on the Development (Devo) Team.
"It's amazing to see the level of excitement and commitment these kids have for the team," said Steve Gates, Big Winds owner and team head coach. "We started this program three years ago with just four kids. Last year we had ten and this year there's 30 and we had to turn more away. I think that speaks loud and clear that the kids really enjoy what they're doing and the parents support it."
With the guidance of coaches TJ Gulizia, Gregg Leion, Jim Stevens, MacRae Wylde and Gates, the kids have been practicing Tuesday through Friday mornings since mid-June. Their workouts are intense, and although fun is important, Gates said they're not out there to goof around, as is evident by the intense tone and pace he maintains during practice.
"I tell the kids there are three things we won't tolerate: tardiness, laziness and cockiness," he said. "And they have been following that impressively well. They show up early, work hard and stay humble. It still blows my mind that we can get 30 kids up at 5:30 in the morning, during their summer vacation, to come down and work out four days a week."
Using the boat basin as a wind-protected home base, the teams venture into the open river when conditions allow. Althougb both teams practice together, the Devo team focuses more on paddling form and technique, while the JET team endures more intense workouts and focuses on specific training objectives like flatwater sprinting, course racing, buoy turning, long distance endurance and upwind and downwind paddling.
"It's pretty cool to see how hard these kids are training," Gates said. "I love that fact that they are having so much fun and working so hard in the summer time."
For most of the team, next weekend's Naish Columbia Gorge Paddle Challenge will be the end of the summer season and the culmination of the last two months of hard work. The third-annual Aug. 17-18 event is bringing many of the best SUP racers in the world to the Gorge to compete in course and relay racing and a spectacular eight-mile downwind race from Viento to Hood River, with more than $18,000 in prize money.
For those who want take the sport to the next level, there are races outside the Gorge all summer long, including the big kahuna of west coast SUP, the Battle of the Paddle Sept. 28-29 at Dana Point, Ca.
"The pro class is going to have some of the best racers in the world," Gates said of the Paddle Challenge. "Some of our racers competed at that level last year and it was a real eye-opener for them to see just how fast some of these guys are. This year I expect some of them to be right in the hunt. In the open and junior classes, all I can say is look out; these kids are going to wail."
Team members
JETteam: Fiona Wylde, Alyson Fromm, Derek Fromm, Kirra Paulus, Lilly Paulm Ben Grodner, Ford Huntington, Sofia DeWolfe, Kristian DeWolfe, Lukas DeWolfe
Devo team: Sam Wiley, Connor Dunn, Tyler Tschritter, Cole Tschritter, Zoe Peterson, Hannah Hill, Elle Truax, Nils Engbersen, Sam Davies, Savannah Boersma, Vetea Boersma, Kelli Clarke, Abbey Leion, Valerie Fischer, Daniel Fischer, Leif Bergstrom, Willy DeWolfe, Sascha Bockius, Milena Johnson, Collette Zach
Latest stories
Latest video:
I Can't Keep Quiet singers at "Citizen Town Hall"
'I can't keep quiet,' sing members of an impromptu choir in front of Hood River Middle School Saturday prior to the citizen town hall for questions to Rep. Greg Walden. The song addresses female empowerment generally and sexual violence implicitly, and gained prominence during the International Women's Day events in January. The singers braved a sudden squall to finish their song and about 220 people gathered in HRMS auditorium, which will be the scene of the April 12 town hall with Rep. Greg Walden, at 3 p.m. Enlarge