Wednesday, August 14, 2013
This week volunteers at Adopt A Dog have selected Otto as the program's adoptable pet of the week. They describe him as follows:
"Otto is an approximately 2-year-old Wirehaired Pointing Griffon mix. He's very smart and energetic and would love to go to a home where he will get regular exercise and leadership. He's a wonderful dog, through and through; except he doesn't quite get the polite way to greet other dogs and needs work on that.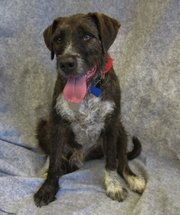 "Otto was adopted out a few months ago, but they weren't sure how to handle his poor manners when it came to meeting other dogs, so they thought it best for Otto to go to a home where he can refine his skills. He's shown much improvement, thanks to our wonderful volunteers and their devotion to such a great dog.
"Otto is a very playful, loving dog and he's crazy about playing in the water! He would love to find his really-forever-family that he can call his own and show them how loyal and affectionate he is. He's not too happy at the shelter because he doesn't get enough exercise and cuddling time, so if you're not able to adopt, but would like to try fostering, please give us a call."
Otto is housetrained, current on shots, microchipped and neutered. The fee to adopt this beauty is $165; cash or check only, please.
Since many of AAD's dogs are in foster care, please call ahead to meet Otto at the Hukari Animal Shelter, 3910 Heron Drive, Odell; 541-354-1083. Adoption hours are Wednesdays from 5-7 p.m. and Saturdays from 9-11 a.m. Applications may be downloaded at www.hoodriveradoptadog.org and faxed to 877-833-7166.
The Adopt A Dog program offers 24PetWatch microchips, which include free registration into the 24PetWatch pet recovery service.
(For more information visit www.24petwatch.com or call 866-597-2424.)
Latest stories
Latest video:
Advertisement: The Men of Black Friday
The secret agents of Big Winds may not exactly be Tommy Lee Jones oand Will Smith, but they still discovered there is plenty of strangeness to be found in Hood River...especially once winter sets in. Enlarge