Wednesday, August 28, 2013
The heroes rose slowly but stood tall.
Oregon Nisei veterans, including Shig Imai of Hood River, received gratitude and applause Saturday in two ceremonies welcoming them and inaugurating the Oregon Historical Society visit of the Smithsonian Institution's traveling "American Heroes" exhibit at Oregon Historical Society, sponsored by Oregon Nikkei Endowment.
"Japanese American Nisei Soldiers and the Congressional Gold Medal" stays in Portland through Sept. 29 in one of only seven stops around the country.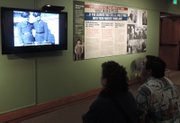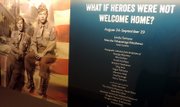 In 2010 U.S. Congress bestowed the military's highest honor, the Gold Medal, on all members, living and deceased, of the 100th Infantry Battalion, the 442nd Regimental Combat Team, and the Military Intelligence Service. The Gold Medal exhibit is now making its way around the country to inform the public about the three units' extreme dedication and heroism.
"This exhibit will help us all to better understand their loyalty and patriotism," said Eric Shinseki, U.S. Secretary of Veterans Affairs, and the highest-ranking Asian-American member of the military, one of several guest speakers at the event at the Oregon Historical Society and the Portland Hilton. Speakers also paid tribute to the Nisei who served in other units in World War II.
"I can think of no better, more compelling, inspiring story of what it means to be an American," Shinseki said. "Their performance in battle is unlikely to be repeated or outdone."
Among those honored was Imai, 93, a retired orchardist, who enlisted in the military prior to Pearl Harbor and served in the Military Intelligence Service.
"This feels really good," said Imai, who rose with 18 other veterans and were given a standing ovation by several hundred people during the ceremony in the OHS lobby.
"I'm happy for the education on our background," said Imai, a retired farmer, "especially if we can get the younger people to see what happened." Education about the Japanese-American experience in World War II was a theme propounded by most speakers on Saturday, including Sen. Ron Wyden, who invoked the 50th anniversary of Martin Luther King's "Dream" speech, which was being honored in a massive rally on the same day, in Washington, D.C.
"Every generation gets an opportunity to be a little bit freer, a little bit better," Wyden said. "We are stronger because of the sacrifices of previous generations, and we have the chance today to build on that great American tradition, because of the soldiers we honor today. And we are doing so not just here but also today in Washington."
"They are my personal heroes, they are this community's heroes, and they are this nation's heroes," said Lynn Longfellow, executive director of the Nikkei Endowment. "They served this country as it held their families captive in concentration camps, and they did so with dedication, and unwavering loyalty, patriotism and compassion."
The events served to open the "American Heroes" exhibition but also an associated exhibit, "What if the Heroes Were Not Welcomed Home," curated by Marsha Matthews and Dr. Linda Tamura, an author and educator who is a native of Pine Grove in the Hood River Valley. Her father, Harry Tamura, served in the Armed Forces while his parents were incarcerated.
(The exhibit also runs through Sept. 29, see info box for details.)
In conjunction with the Congressional Gold Medal exhibit, "What If ..." examines the experiences of American citizens of Japanese descent (second generation Nisei) who were raised on farms in Hood River, attended local schools, and worked on their family orchards.
During World War II, they served heroically with the United States Armed Forces in the South Pacific and in Europe. Yet their names were blotted out from a downtown American Legion memorial honoring local GIs, and they and their family members were discouraged from returning home after the war.
(Tamura is the author of the 2012 book, "Nisei Soldiers Break Their Silence: Coming Home to Hood River," and is dedicated to her father and to her uncle, the late Mamoru Noji, both Nisei veterans.)
The World War II historical precedent is well-documented and still vivid. Shinseki quoted Harold Ickes, Secretary of the Interior who, in a May 1941 speech, "What Constitutes an American," said, in part, "Not color nor race nor religion. Not the pedigree of his family nor the place of his birth. Not the coincidence of his citizenship. Not his social status nor his bank account. Not his trade nor his profession. An American is one who loves justice and believes in the dignity of man. An American is one who will fight for his freedom and that of his neighbor. An American is one who will sacrifice property, ease and security in order that he and his children may retain the rights of free men. An American is one in whose heart is engraved the immortal second sentence of the Declaration of Independence.
"Seven months after Ickes' speech, after the bombing of Pearl Harbor on Dec. 7, 1941, we showed fear, suspicion, even hatred, obscuring the 'self-evident truths' of which Ickes spoke." Shinseki noted that upon Roosevelt's Executive Order of January 1942, Japanese-Americans were classified as enemy aliens, solely because of their ancestry. "The loss of citizenship was not only costly but shameful."
In May 1942 when Japanese-Americans were allowed to serve in the American uniform, groups like the 442nd, 100th, and MIS "rewrote the chapter on valor," Shinseki said, yielding a far greater number of combat decorations than any other units, even military line units that had existed since the Revolutionary War.
"It was my honor to present them with their Congressional Gold Medal for their dedicated service during World War II," Wyden said. "These men are brave and humble, but they are not shy. As one of them said to me when he received his medal, 'It's about time.' Well, he was right. It's not just about time, it's past time. We need to let the community know how much we honor the service of these soldiers today.
"I think of these men and I try to put in my mind what an extraordinary challenge it must have been to these soldiers, serving their country while their families were being subjected to such treatment. These are very, very special individuals we honor today."
The Congressional Gold Medal Tour started in January in New Orleans and traveled to Honolulu, Los Angeles and San Francisco. Chicago History Museum will host it October through December and the final stop will be at Houston Holocaust Museum, Dec. 21 to Jan. 24, 2014.
"We can't escape the irony of what happened to these men and to many others in those early days of World War II," Wyden said. "At a time when they and their families faced harsh discrimination at home, these men fought bravely and valiantly for the United States. Their ferociousness and persistence under fire in Italy, southern France, and Germany became legendary. They became known as the 'Go For Broke' regiment and the most highly decorated unit of its size in U.S. military history.
"There is one more aspect to this remarkable story that must not be overlooked. That is the story of the Japanese-Americans who served in the Military Intelligence Service," Wyden said. "These Nisei solders operated confidentially in small groups attached to combat units in the war against Japan. With great distinction, but little fanfare, they served America and the allied forces from the island of Attu in the Aleutians to Guadalcanal in the south Pacific and eventually in the decisive victories in Saipan, Iwo Jima and Okinawa. They served as translators, questioned enemy POWs, persuaded enemy soldiers to surrender and pored over thousands of military documents crucial to ending the war in the Pacific.
"This is not just about the battles they have won, but the freedoms they have secured at home as well as abroad. It is about the hope they brought to people all around the globe. I know there have been apologies, but please allow me this opportunity to say 'thank you.'"
Wyden and Shinseki spoke first at opening ceremonies and then at a luncheon at Portland Hilton, sponsored by Confederated Tribes of Grand Ronde, Port of Portland, Japan-America Society of Oregon, NW Natural, and Portland Japanese Garden.
Education is the best way to honor them, Longfellow said.
"The incredible story of the Nisei lies at the base of our mission and inspires us to do the work we do."
Shinseki said, "We are the beneficiaries and we all have a personal responsibility to share their story and not let it past our children."
Christine Sato-Yamazaki, chair of the National Veterans Network, said the group seeks private donations for its work in educational outreach including lobbying U.S. school districts to formally adopt Nisei-World War II curriculum that the network has developed. San Francisco Unified School District has done so, and districts in greater Los Angeles are using a pilot curriculum with 10th graders this fall.
Speaking at the opening ceremony were Kerry Tymchuk, executive director, Oregon Historical Society, and Anna R. Cohn, director, Smithsonian Traveling Exhibition Service.
Tymchuck said of the Nisei soldiers, "When George Marshall was asked if we had a secret weapon, he said, 'We have the best, damned kids in the world. Today we are honoring the best damned kids in the world. These best damned kids were willing to fight and die for their country despite the fact that most of their countrymen did not treat them or their families with honor and respect."
Cohn was moved to tears as she said he was deeply honored to participate, and said the Japanese-American veterans "strengthened us and sustain us to this day in the very fabric of our nation. We are embracing this opportunity to honor you and the members of your entire generation."­­­
More like this story
Latest stories
Latest video:
Advertisement: The Men of Black Friday
The secret agents of Big Winds may not exactly be Tommy Lee Jones oand Will Smith, but they still discovered there is plenty of strangeness to be found in Hood River...especially once winter sets in. Enlarge