Wednesday, August 28, 2013
This week volunteers at Adopt A Dog have selected Mumford as the program's adoptable pet of the week. They describe him as follows:
"Mumford is about 4 years old and a Beagle mix, weighing about 30 pounds. And, boy, is he gonna make a great companion for some lucky person!
"He is playful and happy and cuddly, and who can resist that face?! He likes other dogs, too, and kids are sure to be a constant source of fun for him, so he likes them, too!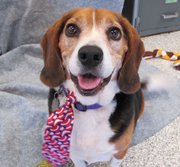 Mumford is happiest with a squeaky toy, or a bone and friends to hang with. But he sure doesn't like the shelter and he says he's really ready to find his forever family. He promises to make you smile!"
Mumford is housetrained, current on shots, microchipped and neutered. His adoption fee is $165; cash or check only, please. The fee to adopt is charged to recoup standard veterinary expenses.

Since many of AAD's dogs are in foster care, please call ahead to meet Mumford at the Hukari Animal Shelter, 3910 Heron Drive, Odell; 541-354-1083. Adoption hours are Wednesdays from 5-7 p.m. and Saturdays from 9-11 a.m. Applications may be downloaded at www.hoodriver-adoptadog.org and faxed to 877-833-7166.
The Adopt A Dog program offers 24PetWatch microchips, which include free registration into the 24PetWatch pet recovery service. (For more information visit www.24petwatch.com or call 866-597-2424.)
Latest stories
Latest video:
I Can't Keep Quiet singers at "Citizen Town Hall"
'I can't keep quiet,' sing members of an impromptu choir in front of Hood River Middle School Saturday prior to the citizen town hall for questions to Rep. Greg Walden. The song addresses female empowerment generally and sexual violence implicitly, and gained prominence during the International Women's Day events in January. The singers braved a sudden squall to finish their song and about 220 people gathered in HRMS auditorium, which will be the scene of the April 12 town hall with Rep. Greg Walden, at 3 p.m. Enlarge