Wednesday, August 28, 2013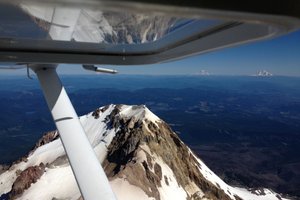 Look skyward every July 4 night and, as the fireworks go off, Russ Paddock of Hood River is behind what's aloft.
There is another skybound part of life for the leader of the Lions' pyrotechnic crew: As a veteran pilot, he regularly takes people up in his Cessna 172 for scenic flights, and he especially enjoys taking youngsters up for "Young Eagle" flights, a piloting introduction program of the Experimental Aviation Association.
Here, Paddock writes of two such flights in 2013, one from July and another from March, under weather conditions that were similar (clear and bright) but different (cold and hot).
In both flights, Paddock's love — no, awe — of flying comes through.
On March 23, the father of one of Paddock's passengers, Curt, asked if they could fly over "the Castle" the rocky rise on the southeast slope of Mount Adams:
"I checked my fuel, checked the clock and said we can do it. There are a couple of mountaineering people who have died who have their ashes up on the Castle. One of them was the first husband of Curt's wife.
So there we are climbing as we are getting closer to the mountain. I am being cautious because I have been in some of the downdrafts around it. But today is perfectly smooth so we get up-close and personal. Close enough that I am not comfortable trying to do a '360' toward the mountain, but would make my 360s to the right to get more distance.
"We are now up to 8,500 feet and the Castle is still above us but we can see it clearly. We continue on toward the northeast, I do another 360, then a 180, and head back toward the southwest and home. I raise the right wing and kick in the rudder so Curt can get some pictures.

"Looking out the right side it looks like I am dragging a wing tip in the snow. Looking out my side there is at least 5,000 feet of free space under me. We really were not that close in, but it seemed like it. That mountain is so big, and we in our little Cessna were so small. It was mind-boggling, even to me.
"Flying at 8.500 feet, tilting the wing and still not being able to see the top. All you know is you are flying beside this big wall of ice, you can see the crevasses. If you are a pilot and have flown the mountains you know what I am talking about. If you are on the ground looking at the mountain and haven't been up there in a small plane, you really don't know what you are missing.
"Oh, the outside temperature dropped to 18 degrees and even the little heater in the Cessna couldn't keep us warm. To think that one month ago today I was taking Young Eagle flights wearing shorts and a T-shirt, flying out of Thermal in California. Today I am wearing a parka in the cockpit to stay warm. What can I say? Life is great! I may never get another chance like we had today to fly in that close to the mountain.
"When we were back on the ground, I happened to turn around and look back to the north. And there was the mountain. I am in total awe! I was just there!"
n
On July 23, Paddock took two Lions Youth Exchange visitors, 17-year-old Leos Elisa from Italy and Lotto from Finland, who were here for six weeks. Russ writes:
"Weather was perfect. Plane was available so we took the Cessna 172 for a little journey. Did I mention it was sort of warm? After climbing about 45 minutes, we managed to clear the summit of Mount Hood, which is about 25 miles from 4S2, and has an elevation of 11,200 feet. Then it only took about 15 minutes to get back to the airport.
"I found some lift on the south side of the mountain. Was a couple-hundred pounds under gross.

"Was a great flight."