Saturday, August 31, 2013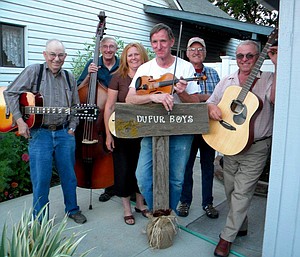 The Dufur Boys will present an evening of country music at the Kiwanis Steak Feed which takes place Thursday, Sept. 5, from 5 to 7 p.m. at Sorosis Park in The Dalles.
The annual event is The Dalles Kiwanis Club's major fundraiser for community projects, most of which serve children and youth. Adult meals include a 10-ounce ribeye steak, baked potato, coleslaw, roll, dessert and drink for $15.
Free meal for children 12 and under features a hot dog plus the other entrees.
Tickets are available from Kiwanis members or may be purchased in the park Sept. 5.
More like this story
Latest stories
Latest video:
I Can't Keep Quiet singers at "Citizen Town Hall"
'I can't keep quiet,' sing members of an impromptu choir in front of Hood River Middle School Saturday prior to the citizen town hall for questions to Rep. Greg Walden. The song addresses female empowerment generally and sexual violence implicitly, and gained prominence during the International Women's Day events in January. The singers braved a sudden squall to finish their song and about 220 people gathered in HRMS auditorium, which will be the scene of the April 12 town hall with Rep. Greg Walden, at 3 p.m. Enlarge