Saturday, August 31, 2013
With a mix of experience and young talent, varsity boys are poised for promising year
Trying not to jinx the team before the season gets started, Hood River Valley High School varsity boys soccer coach Jaime Rivera stopped short of estimating how well he expects the team to do, but says with excitement that this year's squad has the right ingredients to turn quite a few heads.
"We have some new additions to the family and there's always an adjustment period at the start of the season," said Rivera, who is starting his fourth year as head coach. "We have a pretty tough pre-season schedule, so we're not expecting to play our best soccer right away. Our strategy is to be patient, take some time to adjust and allow the team to build trust. We want to be playing our best — to peak — later in the season, during playoffs."
With 78 kids at tryouts and only room for 60 kids across three boys teams (freshman, JV and varsity), Rivera had the largest selection of players he's ever had to choose from. The turnout, he said, has been getting larger and larger every year.
Of the 20 varsity players, eight are seniors — about the same number of seniors the team graduated last year.
"Our seniors are going to be key this year," Rivera said while referring to last year's dramatic 2-1 loss at Woodburn in the state semifinals. "That experience was huge for them, and to have so many players bring that back to the team this year is going to be really valuable."
Woodburn went on to win the state title 2-1 over Mountain View.
Along with his seniors and his group of promising young talent, Rivera says he's particularly excited about his two goalies and his center midfielder. Last year, Danish exchange student Camiel Buursma anchored the midfield with a commanding presence. Going into this season, Rivera didn't know exactly how to fill the void.
Enter Joel Aberg, an exchange student from Sweden, who showed up for tryouts fresh off the airplane.
"He's big, tall and brings a lot of skills from his training in Sweden," Rivera said of Aberg. "It looks like he's going to fit the puzzle quite well. We're fortunate to have these kids coming to HRV. Camiel was a key part of the team last year and it looks like Joel will be as well."
At goalie, senior Quique Rueda, last year's HRV junior varsity keeper, will replace Alonso Mendiola, who graduated. Junior Diego Vaca will also be on the roster as keeper.
"We're lucking enough to have two very talented keepers this year," said Rivera, who was a varsity goalie during his 1996-1999 tenure at HRVHS. "They have both been playing soccer all summer — Rueda in Portland and Vaca for a Salem club — and I think they're really going to surprise people with their talents."
Anchoring the team's 4-4-2 formation will be defenders Danny Romero and Uri Torres. At midfield, Rivera says he's particularly excited to see Giovani Magana — the only freshman on last year's varsity squad to see much playing time — return and fill the wing position.
"That kid is going to have a dynamite year," he said. "He is extremely good at getting outside balls and just knifing the ball into the middle. Combine that with the finishers we have up front, like Jaime Frias, Edgar Villegas and Alex Gutierrez, and we should see a lot of goals."
After a jamboree Thursday at Woodburn, the team's opening game is Sept. 3 at Rex Putnam, followed by home games Sept. 5 vs. Canby (4:30 p.m. at Westside) and Sept. 10 vs. Sandy (4:30 p.m. at HRVHS).
Five seniors will anchor girls as they aim for fourth CRC title in as many years
With three Columbia River Conference championships in the last three years, the Hood River Valley High School varsity girls soccer team has a reputation to uphold as the fall season gets under way. The girls, led by seniors Miga McCurdy, Anna Schlosser, Korey Cimock, Laura De La Torre and Thania Torres, want the CRC title outright — last season they had to share the title with Hermiston as co-champions — and are aiming at advancing deeper into the OSAA state playoffs than the play-in round overtime loss that ended their season last year.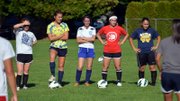 "I'm cautiously optimistic ," said fourth-year head coach Kevin Haspela. "We have a talented group, but they still need to learn how to play together."
Along with the five seniors, the team has five juniors, three sophomores and three freshmen, making it a well-balanced squad with a bright future.
"We have some exciting young talent," Haspela said. "We don't pull freshmen up to varsity unless they're going to be an impact player, and this year we have three, which is exciting. I'm also excited to have Miga (McCurdy) back. She played varsity for us as a freshman and sophomore, then went to France for a year. It's great to have her back."
McCurdy (team captain) will pair-up with the aggressive style of returning varsity attacker Collete Zack up front — a combination Haspela says should result in some pretty effective fire-power. The backfield, he said, should be strong as well, as the team has carried a reputation of having very solid defense for the last several years.
"I think our biggest test this season will be how we play at the midfield," he said. "We have a strong pre-season schedule, with two big tests right off the bat that will help us get a sense of what level we need to play at to have success in the post-season. It's a great chance to go through challenges and come out stronger," Haspela said.
The team will likely shift from last season's 4-2-3-1 formation to a more standard 4-4-2, which will shift players back a bit and help emphasize controlling the midfield, using the wings and feeding balls to the strongest two finishers up front.
In goal, Haspela will have his choice between sophomore Sophia Marble and freshman Vanessa Silva, although he's not yet sure which will be his starter.
"They're both good; it's going to be a tough choice," he said. "That is a good problem to have."

The team's opening game is Sept. 3 at Rex Putnam, followed by a Sept. 10 game at Sandy and home games Sept. 12, 17 and 19 vs. Franklin, Lincoln and Madison.
Latest stories
Latest video:
Advertisement: Local Appreciation Sale at Big Winds