Tuesday, December 17, 2013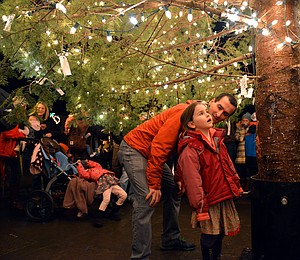 Hazel Haspela and her father, Kevin, share a moment beneath the bright lights of the downtown Christmas tree Friday at Second and State streets. Several hundred people turned out to see the lights, and greet Santa Claus. The parade and tree lighting had been postponed one week after the snowfall on Dec. 6. "It was great to see the community come together," Chamber Executive Director Mike Glover said. "We really appreciate the city's efforts to get the street ready and providing vehicles for the parade." The crowd went through three "false starts" in the light countdown, as contractor Hollywood Lights worked to connect the power at the scheduled 7 p.m.
More like this story
Latest stories
Latest video:
I Can't Keep Quiet singers at "Citizen Town Hall"
'I can't keep quiet,' sing members of an impromptu choir in front of Hood River Middle School Saturday prior to the citizen town hall for questions to Rep. Greg Walden. The song addresses female empowerment generally and sexual violence implicitly, and gained prominence during the International Women's Day events in January. The singers braved a sudden squall to finish their song and about 220 people gathered in HRMS auditorium, which will be the scene of the April 12 town hall with Rep. Greg Walden, at 3 p.m. Enlarge