Saturday, December 21, 2013
It's beginning to look a lot like Christmas in downtown Hood River, but nowhere is quite as Christmassy as the Oak Street Hotel.
The hotel changes its holiday décor with the seasons, but its Christmas display is what really wows both residents and visitors alike.
The displays are a joint effort between Antonio Alvarado, who has been with the hotel since 2009, and Joyce McCarty, 92-year-old mother of Denise McCravey, who owns the hotel with husband Mike.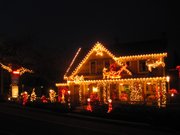 Alvarado and McCarty start preparing for the year's holiday display each fall.
"Holiday decorations are planned in early October, and I begin to organize the decorative items with the theme for the year," McCarty said. She begins making interior arrangements in early November, and the large exterior arrangements mid-month.
"They are quite the team," McCravey said. "Antonio cuts a pickup load of Douglas fir boughs in mid-November for Joyce to make fresh arrangements. Joyce does all the seasonal arrangements for the hotel."
The last week of November finds Alvarado checking and stringing lights.
"Antonio is an expert at lighting displays and in securing the roof displays," said McCravey. He is in charge of stringing and spacing the lights, as well as organizing all of the electrical connections with timers.
His responsibilities don't end once the lights are up, however. He checks the display twice a day and replaces bulbs as needed.
"Antonio is a vital person in the holiday display at the hotel," said McCravey. "When the decorating is finished and the lights come on, Antonio always smiles and tells us, 'It's beautiful.'"
And when the holidays are over, Alvarado carefully winds each strand of lights and organizes everything for storage.
Alvarado, who has lived in Hood River the past 24 years, has plenty of experience with light displays. He was at the Columbia Gorge Hotel for ten years, where he primarily worked on landscaping—planting flower bulbs, trimming and shaping hedges. He also put up the hotel's holiday light display every year.
It would take him three months to set up all of the lights with help from two other people. He organized both storage and installation of the display until the hotel foreclosure put him out of a job. Soon after, he started working at the Oak Street Hotel.
Alvarado maintains all of the landscaping, holiday lights and other seasonal exterior decorations at the hotel, as well as its portfolio of vacation homes, said McCravey. He also works for Gorge Rentals Property Management and The Gorge Property Real Estate Team.
"Gorge Property Real Estate Team clients often rely on Antonio to prepare or maintain their yards when a house is on the market," said McCravey. "His work varies with Gorge Rental Property Management as he does yard maintenance for tenants and owners, cleans out houses after tenants leave, and does outside maintenance and washing windows for larger complexes. Independent property owners contract through Gorge Rentals for yard care, seasonal cleanup and window washing."
Alvarado's favorite part of his job? "Making everything look cleaner and better," he said.
Alvarado looks forward to putting up the holiday display each year because he knows how much the community enjoys and appreciates the lights.
"When we are on the roof installing the display, people always honk their horns and wave to let us know they like the decorations," Alvarado said. His youngest son often asks to drive by the hotel at night to see the holiday lights, too.
"It's fun to have people come into the hotel and stop to tell us how much they enjoy the decorations each year," McCarty said. "Others honk their horns and wave. I especially enjoy it when kids stop to look at everything. Their faces shine with delight."
"Antonio is the best person I have ever had to help me decorate the hotel," said McCarty. "He has a second sense of where things go and how I like them displayed. Although I am 92 years old, Antonio lets me do whatever I want, except climb a ladder."
McCravey said her mother did the interior design when they first remodeled the hotel in 2001. "My mother is the most incredible woman I have ever met," she said. "Each season she makes and changes arrangements and decorations both in the interior and exterior.
"I am amazed each Christmas. She creates new arrangements and ways to decorate the hotel. Antonio is always ready to work with her and make it beautiful."
More like this story
Latest stories
Latest video:
Advertisement: Local Appreciation Sale at Big Winds