Tuesday, February 5, 2013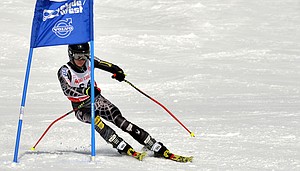 Hood River, The Dalles, Summit and Grant high school skiers were treated to sunny skies and soft course conditions Saturday for a giant slalom race at Mt. Hood Meadows Ski Resort.
Continuing their trail of dominance, the HRV varsity girls placed four racers in the top five and took the team win by almost 30 seconds over second-place The Dalles. Lucy McLean remains unbeaten for the girls squad with a two-run time that was less than a second off of the fastest varsity boys skier, Eli Holeman of The Dalles.
The HRV boys won the overall race by just under 10 seconds combined time, with William Lamer posting the fastest boys time at a second off the winning pace. Ryan Colesar and Patrick Crompton were close on his heels in third and fourth and Nick Cooper in 12th to help secure the overall win.
Next up in Mt. Hood Ski League action is a slalom race Feb. 9 at Skibowl.
Race highlights:
HRV girls team: 1st, time diff. 29.46 seconds
HRV boys team: 1st, time diff. 9.63 seconds
HRV Girls top 5: (run 1, run 2, total)
Lucy McLean, 1st, 33.20, 34.21, 1:07.41
Korey Cimock, 2nd, 24.22, 34.96, 1:09.18
Molly Clarke, 3rd, 37.03, 37.85, 1:14.88
Sadie Shepard, 5th, 37.97, 38.71, 1:16.68
Allie Ferrick, 11th, 40.19, 41.77, 1:21.96
HRV boys top 5:
William Lamer, 2nd, 32.75, 34.91, 1:07.66
Ryan Colesar, 3rd, 33.95, 34.89, 1:08.84
Patrick Crompton, 4th, 34.77, 36.73, 1:11.50
Nick Cooper, 12th, 38.24, 40.11, 1:18.35
William Ferrick, 23rd, 44.49, 45.63, 1:30.12
More like this story
Latest stories
Latest video:
I Can't Keep Quiet singers at "Citizen Town Hall"
'I can't keep quiet,' sing members of an impromptu choir in front of Hood River Middle School Saturday prior to the citizen town hall for questions to Rep. Greg Walden. The song addresses female empowerment generally and sexual violence implicitly, and gained prominence during the International Women's Day events in January. The singers braved a sudden squall to finish their song and about 220 people gathered in HRMS auditorium, which will be the scene of the April 12 town hall with Rep. Greg Walden, at 3 p.m. Enlarge