Tuesday, February 12, 2013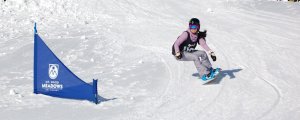 Led by standout riders Autumn Inouye for the girls and Connor Goodwillie for the boys, the Hood River Valley High School snowboarding team is carving through the season and has picked up two more first-place finishes in Oregon Interscholastic Snowboarding Association action.
The latest round on Saturday saw boys and girls teams from the Gorge League face off for a day of slopestyle competition at Mt. Hood Meadows. Edging riders from Sandy and Southridge, the HRV boys and girls both finished first overall and had two riders place in the top three. Inouye was runner-up for the girls, followed by Maddie Collins in third. For the boys, Goodwillie won his second slopestyle event of the season and was backed by Isaiah Arnold in third, Ethan Field in fifth and River Rudhe in seventh.
The weekend prior, the team competed in banked slalom racing, also at Mt. Hood Meadows. With riders elbowing against one another for the fastest times down the course, Inouye finished first overall in the girls field and Goodwillie finished fifth for the boys to lead the HRV squad.
The two were backed by teammates Katie Middle, Field, Rudhe and Arnold, all of whom finished in the top 10 to give the HRV team first overall.
"The team has dwindled from about 17 riders at the beginning of the season to eight now," coach Phineas England said this week. "The ones left are the core group of riders who are solid and serious about being on the team. We've seen some great results so far and already have several who have qualified or are shoo-ins for state."
The team moved on to compete in its first of two half-pipe contests Wednesday afternoon at MHM.
Banked slalom highlights
Girls
1st: Autumn Inouye
10th: Katie Middle
Boys
5th: Connor Goodwillie
6th: Ethan Field
8th: River Rudhe
9th: Isaiah Arnold
Slopestyle highlights
Girls
2nd: Autumn Inouye
3rd: Maddie Collins
8th: Katie Middle
Boys
1st: Connor Goodwilie
3rd: Isaiah Arnold
5th: Ethan Field
7th: River Rudhe
Latest stories
Latest video:
I Can't Keep Quiet singers at "Citizen Town Hall"
'I can't keep quiet,' sing members of an impromptu choir in front of Hood River Middle School Saturday prior to the citizen town hall for questions to Rep. Greg Walden. The song addresses female empowerment generally and sexual violence implicitly, and gained prominence during the International Women's Day events in January. The singers braved a sudden squall to finish their song and about 220 people gathered in HRMS auditorium, which will be the scene of the April 12 town hall with Rep. Greg Walden, at 3 p.m. Enlarge