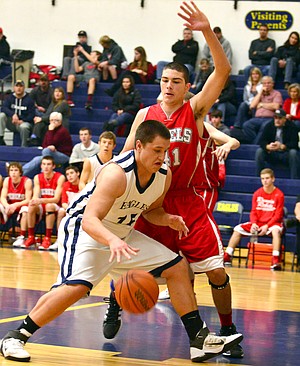 Eagle turnovers and sharp South Albany shooting kept Hood River Valley's boys basketball team from surpassing .500 for the first time in nine seasons.
Ryan Wheat led the Eagles with 17 and Wyatt Webber added 10 but the visiting Rebels grabbed a 10-point lead early in the third quarter Wednesday and never let the margin get below eight points, wrangling a hard-fought 68-58 win at Vannet Court.
HRVHS led 20-19 after the first quarter but South Albany dominated the second quarter to take a 38-34 halftime lead.
Turnovers plagued both teams, but SAHS effectively employed the trap in the second and third quarters, and gradually gained its three-point shooting accuracy, nailing seven including three in the decisive third quarter.
Every time HRV nibbled the lead to seven or eight, SAHS responded with a three.
"We had 26 turnovers which is 11 more than what we are averaging a game," coach Steve Noteboom said. "We also gave up 17 offensive rebounds. These are the two biggest reasons why we lost the game."
The Eagles looked to have the upper hand early, going up 18-13 on a long three-ball by senior RJ Chavez (9 points) followed by a jumper by junior Wyatt Webber (10 points).
In the third, South put the press on, and while HRV broke it on several occasions, the Rebels' backcourt gamble paid off in several turnovers. South also drove baseline to draw fouls, and kept the Eagles on their heels with effective fast breaks after most HRV scores.
The Rebels went up 34-28 on their third three-pointer of the quarter, and guard Austin Clarke answered with his own to make it 34-31. But that was as close as Hood River would get on the night.
Guard Cesar Romero's efforts in the first half would not show up on the stat sheet but his defense slowed his opponents in the backcourt and halted penetration from the top of the key.
In the second half Romero pulled down three rebounds, including one in the middle of three taller Rebels. Romero scored on a thrilling layup when he split two defenders and speared through the lane for a layup and was fouled.
Wheat picked up his second foul four minutes into the game, and took a while to get going, but scored eight of the team's 12 fourth-quarter points. HRV seemed to have the chance several times midway through the final quarter, but SAHS always had an answer.
South also turned the ball over several times in each quarter, and HRV got the benefit of four offensive foul calls in the second half but could rarely capitalize on the new possessions.
South held its 10-point lead throughout the fourth, and got down by as much as 14.
Chavez showed spark in the second half, defensively and in lane penetration, at one point muscling his way under from the baseline, grabbing his own rebound in traffic, pump-faking and banking in his second attempt from a tough angle, and five seconds later diving to force an SAHS turnover on the other end.
At 2:30 remaining SAHS ran down the clock, passing around the perimeter with controlled dribbling and passing. HRV was down by 10 but would not intentionally foul until 1:11 left.
"We had three fouls to give down the stretch and we should have been more aggressive on the defensive end," Noteboom said Thursday. "We worked on situations like that during practice today."
HRV highlights: Wheat 17, Webber 10, Chavez 9, Fults 7, Clarke 6, Kennedy 4, Romero 3, Weekly 2
More like this story
Latest stories
Latest video:
I Can't Keep Quiet singers at "Citizen Town Hall"
'I can't keep quiet,' sing members of an impromptu choir in front of Hood River Middle School Saturday prior to the citizen town hall for questions to Rep. Greg Walden. The song addresses female empowerment generally and sexual violence implicitly, and gained prominence during the International Women's Day events in January. The singers braved a sudden squall to finish their song and about 220 people gathered in HRMS auditorium, which will be the scene of the April 12 town hall with Rep. Greg Walden, at 3 p.m. Enlarge