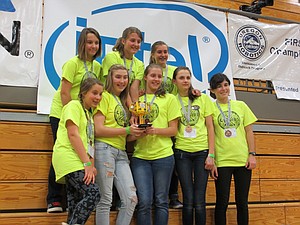 The First Lego League state championship competition took place Saturday and Sunday, Jan. 19-20, in Hillsboro.
Hood River Middle School had four teams advance to the state championship, and the Gorge region was represented by six teams advancing from the local qualifying tournaments.
Team Celsius, an all-girls team from Hood River, took second-place honors out of 65 teams on Saturday.
Contestants presented projects on the theme of "Senior Solutions."
Team Celsius created a memory game, "Face-O," similar to bingo, with the added twist of face recognition.
The two top teams from the weekend go on to "Worlds," at a location to be announced, according to co-coach Joe Dolan, an HRMS science teacher.
Celsius is the only team from outside the Portland Metro area, as well as the only all-girl team, to earn a champion award. Teams reaching this level have been practicing for months on building, design, research and programming.

"Judges were impressed with the (Face-O) game, a webpage to support it and the overall creativity and teamwork of this great group of kids," Dolan said.
He coached the team along with John Fine, Barry Paul and Dave Ouzounian.
The students did research for their "senior solutions" project, the part of the robotics competition that has to be presented to judges, by working with residents of Mill Creek Pointe facility, an assisted-living center in The Dalles.
Dolan explained that the team interviewed the residents and asked them about challenges to their abilities and their frustrations with the aging process. The team came up with this "FACE-O" game, which is like Bingo, to help with memory.

The studentes researched the literature on "cognitive decline" or normal aging, and also Alzheimer's and dementia.
"They tested the game with the residents, tweaked it and went back to play again," Dolan said. "It was a hoot! The residents loved it and all had fun. And it is aligned with the research about teaching memory skills; but it includes a social component which is really important to older folks."
The team also had to build a robot which does tasks on a table for points (three times) and they have to do a team cooperation type of task as well called "Core Values."
Dolan said, "The total score depends on all those things. It's pretty intense."
More like this story
Latest stories
Latest video:
I Can't Keep Quiet singers at "Citizen Town Hall"
'I can't keep quiet,' sing members of an impromptu choir in front of Hood River Middle School Saturday prior to the citizen town hall for questions to Rep. Greg Walden. The song addresses female empowerment generally and sexual violence implicitly, and gained prominence during the International Women's Day events in January. The singers braved a sudden squall to finish their song and about 220 people gathered in HRMS auditorium, which will be the scene of the April 12 town hall with Rep. Greg Walden, at 3 p.m. Enlarge