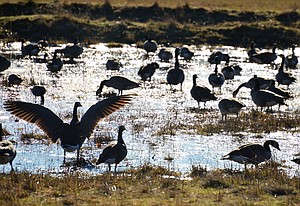 Between resident and migratory Canada Geese, there sure are a lot of these big birds flying around the Gorge this time of year. A few interesting facts about them (from www.geeseguys.com): Life expectancy of Canada Geese is about 20 years; adults generally weigh between 20-25 pounds; females can produce up to 80 offspring in their lifetime; pairs mate and stay together for life (unless one dies); they return to the general area of their birth each year.
More like this story
Latest stories
Latest video:
I Can't Keep Quiet singers at "Citizen Town Hall"
'I can't keep quiet,' sing members of an impromptu choir in front of Hood River Middle School Saturday prior to the citizen town hall for questions to Rep. Greg Walden. The song addresses female empowerment generally and sexual violence implicitly, and gained prominence during the International Women's Day events in January. The singers braved a sudden squall to finish their song and about 220 people gathered in HRMS auditorium, which will be the scene of the April 12 town hall with Rep. Greg Walden, at 3 p.m. Enlarge