Art and theater blend in a unique way with the stage production of "Love, Loss, and What I Wore," which closes this weekend.
Artwork plays a key role in the comic drama at Columbia Center for the Arts, as three local artists drew images of clothing that accompany the comic and poignant vignettes that make up the play, a comedy by Nora Ephron and Delia Ephron.
The 28 drawings by J. Niels Harvey, Cathleen Rehfeld and Karen Watson are being sold in silent auction, through Saturday, with proceeds going to the arts center. Bids can be made on show nights, or anyone can visit CCA to place a bid, said director Judie Hanel.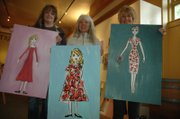 The works are acrylics on illustration board, and the artists created them in one six-hour session in May.
"It was a lot of fun. We shared brushes and ideas," Rehfeld said.
The artists added their own touches to prescribed descriptions of the clothing, provided by the playwrights.
"It was almost like a class assignment, to replicate the images to the best of our ability," Watson said. "But I think we all brought to it our own style and hand."
The monologues and multi-character vignettes revolve around recollections by narrator Gingie (Brenda Hering).
"The clothing tells the stories of all the people she has loved, and lost," said cast member Emily Vawter, who is also education coordinator at the Center for the Arts.
The three artists collaborated on the drawings of Girl Scout uniforms, prom dresses, cocktail dresses and other attire.
The garments represent the characters and what they were experiencing at the time.
On stage, actor Irene Fields changes the pictures as more and more characters, and their stories, unfold courtesy of eight actors playing 28 parts.
The artists divided up the images more or less randomly, but some had a more personal connection than others for the artists.
"I was a Brownie when I was a girl, and it was kind of a bad experience, so I got that one," said Watson, of Hood River.
"I had twins, and so I got the image of the twins," said Harvey, of White Salmon, who has been a professional artist for the past three years.
Rehfeld's art partners joked that she is "the fashion plate," so she was assigned the more elegant ones.
"I don't know if I'm any more of a fashion plate than they are but I do have a strong affinity for fabric and pattern, so I chose ones that had strong patterns," said Rehfeld, of Hood River.
All three artists are regular contributors to exhibits at Columbia Art Gallery at CCA.
n
CCA is open daily from noon to 5 p.m. in the summer.
Shows are at 7:30 p.m. July 18-20. (Performances run 2:05, including intermission.)
The performances also include four original monologues written by cast members.
Tickets are $18 for adults and $14 for seniors and students; available at Waucoma Bookstore, the arts center and online at www.columbiaarts.org. The production is suitable for mature teenagers.
Latest stories
Latest video:
Advertisement: The Men of Black Friday
The secret agents of Big Winds may not exactly be Tommy Lee Jones oand Will Smith, but they still discovered there is plenty of strangeness to be found in Hood River...especially once winter sets in. Enlarge