This week volunteers at Adopt A Dog have selected Beanie and Salsa as the program's adoptable pet(s) of the week. They describe the two as follows:
"Beanie and Salsa are two of a kind! They're both 10 years old and have lived together all their lives. Their owner recently passed away and they ended up outside our door in a crate with a note asking us to please find them a good home.
"The shelter was closed, but luckily a couple of our volunteers just happened to come by and they found these girls huddled together and abandoned. We don't know how long they'd been out there, and the two little Chihuahuas were pretty depressed and afraid, but the volunteers sent out word and got the two inside and fed and now the dynamic duo are finally coming around and looking for lovin' and attention!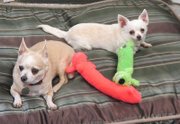 "They're perfect little lap dogs with the sweetest little personalities! Salsa is the braver of the two, and Beanie just wobbles along behind her. (They both have a few extra rolls of cuddles around their bellies, but even so, together they might weigh 15 pounds!)
"Please consider giving these senior dogs a lovely home to retire to. They are super easy-going and super-duper huggable. You can tell they have been loved and spoiled in the past and they are very dependent upon each other. We will only adopt them together — package deal!"
Both girls have just had dental treatments, are housetrained, current on shots, micro-chipped and spayed. The adoption fee for the twosome is $100; cash or check only, please. The fee to adopt is charged to recoup standard veterinary expenses.
Since many of AAD's dogs are in foster care, please call ahead to meet Beanie and Salsa at the Hukari Animal Shelter, 3910 Heron Drive, Odell; 541-354-1083. Adoption hours are Wednesdays from 5-7 p.m. and Saturdays from 9-11 a.m. Applications may be downloaded at www.hoodriveradoptadog.org and faxed to 877-833-7166.
The Adopt A Dog program offers 24PetWatch microchips, which include free registration into the 24PetWatch pet recovery service. (For more info visit 24petwatch.com or call 866-597-2424.)
Latest stories
Latest video:
Advertisement: Local Appreciation Sale at Big Winds