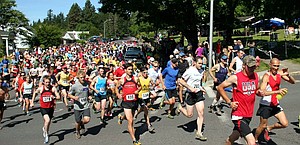 The sixth-annual White Salmon Backyard Half Marathon drew 399 registered runners last weekend for the 11.5-mile trail run starting and finishing in White Salmon and venturing on to the muddy single-track trails overlooking the Columbia River. The event, a fundraiser for Columbia High School Cross Country, drew nearly 100 more runners than last year and was hailed a success by organizers and participants.
Below are top 15 placers who registered Hood River as their hometown:

Jonathan Graca: 23rd, 2:00:30
Calum Robertson: 31st, 2:02:06
Gary Daubenspeck: 34th, 2:03:20
Becky Brun: 37th, 2:03:56
Stephen King: 39th, 2:05:19
Ryan Dubina: 60th, 2:11:25
Jer Camarata: 83rd, 2:20:37
Chris Gilbert: 84th, 2:20:40
Ben Iremonger: 86th, 2:20:48
Erick Haynie: 116th, 2:27:19
Sara Snyder: 118th; Kimberly Humann: 131st; Elia Hernandez: 164th; Denise Stetson: 177th; Nicole Bassett: 183rd
More like this story
Latest stories
Latest video:
I Can't Keep Quiet singers at "Citizen Town Hall"
'I can't keep quiet,' sing members of an impromptu choir in front of Hood River Middle School Saturday prior to the citizen town hall for questions to Rep. Greg Walden. The song addresses female empowerment generally and sexual violence implicitly, and gained prominence during the International Women's Day events in January. The singers braved a sudden squall to finish their song and about 220 people gathered in HRMS auditorium, which will be the scene of the April 12 town hall with Rep. Greg Walden, at 3 p.m. Enlarge