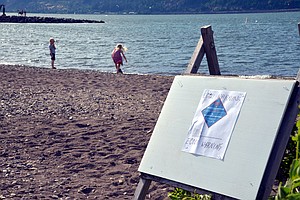 Update from Lorri Epstein of Riverkeeper on Friday afternoon: Results from Hood River Event site E.coli sample collected on 6/27/13 are 157.6 MPN. This value is below the EPA's standard for a single grab sample (235MPN) and above EPA's standard for the geometric mean of 5 samples collected within 30 days (126MPN). These results follow previous results from the event site of 272.3 MPN on 6/24/13 and >2,419.2 MPN on 6/26/13.
Based on these results, Riverkeeper will mark the Event as "safe for swimming" as of 6/27/13 the Swim Guide App and Riverkeeper website. However the results are still slightly elevated so I would recommended following these recommendations to protect yourself when coming into contact with the water.
Riverkeeper notified the city and port Thursday that testing shows dangerous levels of E. coli bacteria in the water of the popular Event Site on the Columbia River.
Results from the Hood River Event Site indicate fecal bacteria contamination.
At the city's request, port employees posted warning signs at the site on Thursday afternoon.
Riverkeeper did a third test Thursday and planned to release the results by June 28 at 1:30 p.m. Riverkeeper's website is www.columbiariverkeeper.org
Lorri Epstein, water quality coordinator with Riverkeeper, said recent tests show normal levels at the Waterfront Park beach, though there had been one spike in bacteria levels at the park beach about three weeks ago.
The EPA water quality standards for recreational contact provide that no single sample shall exceed 235 MPN (most probable number of colonies). The results from the event site on June 24 registered 272 MPN; that number was 2,419.2 on June 26.

Riverkeeper conducts weekly monitoring for bacterial contamination at five popular recreation sites in the Columbia Gorge. It does so in part to support the City of Hood River in monitoring the effectiveness of its wastewater treatment plant (as requested by DEQ), located west of the Event Site, upland from the river.
Water samples are collected weekly from the Hood River at Tucker Bridge, and from the Columbia at the Waterfront Park Swim Beach, the Event Site, the Outer Hook and the Inner Hook.
E. coli is naturally found in the intestines of warm-blooded animals, but its presence in river indicates fecal contamination and is linked to diarrhea, fever, vomiting, severe stomach cramps and even prolonged illnesses such as typhoid and dysentery. Contaminated waters pose the greatest risk to children, the elderly and those with weakened immune systems
"We recommend posting signs at the event site as soon as possible and leaving them in place until results show that bacteria have returned to safe levels," Epstein said.
The signs warn the public of high bacteria levels and discourage water contact, and will remain in place until results show the water is safe for recreational contact.

Riverkeeper tests levels and not sources.
"That said, bacteria levels can fluctuate drastically after heavy rains, and the heavy rains we have had recently could be a potential source," Epstein said.
The freshwater beaches on the Columbia River are popular with swimmers and recreationalists; however, state and federal agencies do not monitor them as they do coastal beaches. Riverkeeper volunteers have monitored Columbia River beaches since 2006 and now the data is available almost immediately through the Swim Guide.
Latest stories
Latest video:
I Can't Keep Quiet singers at "Citizen Town Hall"
'I can't keep quiet,' sing members of an impromptu choir in front of Hood River Middle School Saturday prior to the citizen town hall for questions to Rep. Greg Walden. The song addresses female empowerment generally and sexual violence implicitly, and gained prominence during the International Women's Day events in January. The singers braved a sudden squall to finish their song and about 220 people gathered in HRMS auditorium, which will be the scene of the April 12 town hall with Rep. Greg Walden, at 3 p.m. Enlarge