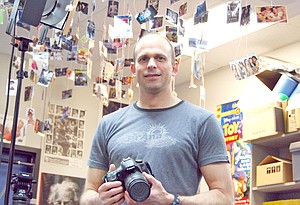 Twenty-seven educators across the county received a little extra boost in their efforts to bring innovation to the classroom with recent grant awards from the Hood River County Education Foundation's Innovative Teaching program.
"This has been another record year for grants!" said Paul Lindberg, HRCEF executive director. "The Foundation recently completed its review of applications for the winter 2013 grant cycle. As in years past, we received more proposals for excellent ideas than we could fund and we faced some difficult decisions."
The HRCEF grant program, which has two cycles yearly, makes awards to teachers and staff who find new subjects to explore, better ways to teach, and interesting experiments to try.
"I am very excited about the money I got for the grant. It allowed me to purchase a piece of equipment for my class that would not have been possible otherwise," said HRVHS multimedia teacher Shawn Meyle. "I've already used the camera to help with a documentary video for the Columbia Gorge Arts in Education Confluence Project."
The goal of the program is to provide the critical funds that will turn the best of these ideas into action. The program is open to any Hood River teacher, staff, district employee or student.
In the end, the HRCEF Board awarded 27 grants, totaling $18,248.98.
"This program is funded almost entirely from local sources," said Lindberg. "Proceeds from the Trail Band concert are combined with individual donations, and some grant funds to support the teachers and students in our schools."

The Foundation is continuing to raise funds for this program so it can fund more teacher ideas for the second round in May.

The list of recipients this year includes requests for such varied items as a computer program for music at the middle school, materials and specimens for science classes at the high school, and math enrichment programs at the elementary schools.

"These are ideas that teachers in our schools want, need and use to better teach our children. The Education Foundation is pleased to support them," said Lindberg.
Teachers and educators receiving awards include:
Heather Clark and Heather Geraci: $800 for books and supplies for first-grade reading enrichment program; Meli Santillan: $800 for books and supplies for first-grade reading enrichment program; Vicki Bebb: $800 for books and supplies for first-grade reading enrichment program
Rebecca Nederhiser: $570 for a music software program; Angie Adkins: $800 for Netbooks for her seventh-grade classroom
Amanda Orand: $300 for paper and e-books for early native Spanish speakers; Judy Holt-Mohar: $800 for "Can it Rain Frogs?" curriculum for students to construct objects that illustrate scientific principles from biology, physics, life science, geology and/or astronomy, resource books and "Kid Friendly Biographies"; Vickie Schmidt: $800 for "Informative Text & Technology" electronic reading applications; Dennis McCauley: $799.90 for "Turning Miles into Learning," plus seven Apple Shuffles and three Apple Nanos for students who travel to keep up with their schoolwork
Rebecca Swartzenruber: $400 for books for eighth-grade students; David Sacquety: $269.56 for nonfiction books for classroom reading; Amy Vaughn: $350 for noise reducing headphones for students with sensory and auditory issues; Susan Arechaga and Nancy Behrmann: $1,591.44 for "Papershow" an interactive presentation tool for increased math engagement
Hood River Valley High School
Kathryn Davis: $760 for lab materials for new genetics and bioethics class curriculum; David Case: $573 for supplies and equipment for portable history museum; Amy Foley: $728.50 for biology and life science enrichment supplies; Jennifer Schlosser: $800 for college and career advising software training and add-ons; Ann Zuehlke: $720 for books for Oregon Battle of the Books; Shawn Meyle: $798.90 for digital camera with video and related equipment; Jeff Blackman: $800 for "Arduino" software to design and program circuit boards; Shayla Moline: $800 for electronic clickers to help engage math students
Staci Schmidt: $425 for "Robust Vocabulary: Text Talk" an intense vocabulary and reading comprehension program; Shannon Monroe: $425 for "Robust Vocabulary: Text Talk"; Cynthia Sischo: $199 for "IXL," a computer-based learning system for math
Kathryn Ritter and Angela Sperry: $597 for "IXL: a computer-based learning system for math; Robin Cushman: $800 for books for second-grade guided reading; Nathan Smith: $741.68 for "Structure of Life," a kit, module and live organisms for science lessons
For more information on this or any program of the Education Foundation, contact Lindberg at ed.foundation@hoodriver.k12.or.us or 541-387-5713.
More like this story
Latest stories
Latest video:
I Can't Keep Quiet singers at "Citizen Town Hall"
'I can't keep quiet,' sing members of an impromptu choir in front of Hood River Middle School Saturday prior to the citizen town hall for questions to Rep. Greg Walden. The song addresses female empowerment generally and sexual violence implicitly, and gained prominence during the International Women's Day events in January. The singers braved a sudden squall to finish their song and about 220 people gathered in HRMS auditorium, which will be the scene of the April 12 town hall with Rep. Greg Walden, at 3 p.m. Enlarge