Wednesday, March 13, 2013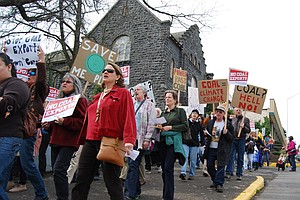 Participants in the "No Coal" rally walk past Riverside Church on State Street in Hood River Wednesday afternoon. The protest against coal exports drew dozens of people to a rally in front of the Hood River fountain on State Street.
Photo Gallery
No Coal protest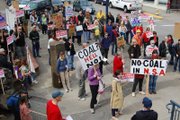 More like this story
Latest stories
Latest video:
I Can't Keep Quiet singers at "Citizen Town Hall"
'I can't keep quiet,' sing members of an impromptu choir in front of Hood River Middle School Saturday prior to the citizen town hall for questions to Rep. Greg Walden. The song addresses female empowerment generally and sexual violence implicitly, and gained prominence during the International Women's Day events in January. The singers braved a sudden squall to finish their song and about 220 people gathered in HRMS auditorium, which will be the scene of the April 12 town hall with Rep. Greg Walden, at 3 p.m. Enlarge