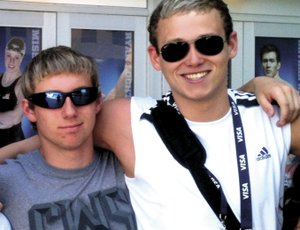 Hood River Valley Swim Team continues to add state champions to its ranks as this year's season comes to a climax. Competing at the recent 2013 Oregon senior state championships, HRVST standouts Scott Bergstrom, Danielle Miller, Erin Nelson and Connor Webb all won state titles.
With by far the best showing of the tournament, for any swimmer, Bergstrom dominated the competition to win four events, take second in two and garner the men's high-points award for the championship. Bergstrom set five new HRVST records along the way (200 free, 500 free, 1000 free, 200 IM and 400IM) and will carry serious momentum into his next contest: the Speedo Champion Series this week in Federal Way, Wash.
Bergstrom will be accompanied at the series by Webb, who earned a state title in the 200 breaststroke and top five finishes in the 200 butterfly and 200 freestyle events.
"Our 200 IM record will be a fun one to continue to watch this spring," coach Shelly Rawding said after the meet. "Connor set the latest record in that event at this year's state high school swim meet. Scott just lowered it again, and they both will be swimming at the Speedo Champion Series."
In the girls field, Nelson took the state 100 freestyle title with her first-ever sub-1:00 time in the event; more than a second faster than her previous best time. Miller also shaved more than a second off of her best time in the 100 backstroke to claim a state title in the event.
Next up for the two girls, and teammates Mariah Rawding, Chad Klaas, Dhani Freeland and Emilio Castaneda, is the Age Group Regional championship March 22-24.
Senior Championships top 10 finishes
Scott Bergstrom (18): 1st in 1,000 free, 500 free, 200 IM, 400 IM, 200 free and 200 fly; 2nd in 200 IM and 400 IM; 3rd in 200 fly; 4th in 500 free
Danielle Miller (16): 1st in 100 back
Erin Nelson (16): 1st in 100 free
Connor Webb (18): 1st in 200 breast; 2nd in 200 free; 5th in 200 fly
Kylie Webb (16): 2nd in 200 breast
More like this story
Latest stories
Latest video:
I Can't Keep Quiet singers at "Citizen Town Hall"
'I can't keep quiet,' sing members of an impromptu choir in front of Hood River Middle School Saturday prior to the citizen town hall for questions to Rep. Greg Walden. The song addresses female empowerment generally and sexual violence implicitly, and gained prominence during the International Women's Day events in January. The singers braved a sudden squall to finish their song and about 220 people gathered in HRMS auditorium, which will be the scene of the April 12 town hall with Rep. Greg Walden, at 3 p.m. Enlarge