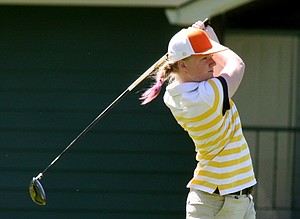 For the first time in team history, the Hood River Valley High School girls golf team claimed a district championship. The team of four – Laura Waller, Korey Cimock, Alicia Hay and Gabriella Whitehead – shot a two-day total of 782 on Monday and Tuesday of this week to claim the Columbia River Conference championship over Pendleton, Hermiston and The Dalles-Wahtonka.
Winning the title qualifies the team for the 5A OSAA state championship, held May 13-14 at Quail Valley Golf Course in Banks.
With only four girls on the team this season, the three juniors and one senior knew going into the tournament they'd all have to perform to their very best of abilities to have a shot at the state tournament. Varsity teams normally consist of five players, and the lowest score from each team is thrown out. Without that buffer, the HRV girls had little room for error at the Big River Golf Course in Hermiston.
"We had two perfect days to play golf, with warm weather and little wind," a proud Coach Dave Waller said this week. "Without the luxury of a fifth player, everyone's scores counted no matter what, so they really had to put in two great days, and that's what they did."
Waller said the first day total of 389 is the second-best one-day score the HRV girls have posted since he's been coaching. Leading the charge on the first 18 were Waller and Hay, who both finished in a tie for third at 92. Cimock wasn't far behind with 95 and Whitehead, with a little trouble on a couple holes, came in at 110. The performance put the girls in first with a 12-stroke lead over Hemiston and 15 over Pendleton going into the second round of competition.
With back-to-back second-place finishes behind Hermiston the last two years, the Eagles were in good shape to win their first-ever conference title as long as they had similar performances and avoided any major breakdowns.
The major breakdown, it turns out, came from Hermiston's top golfer, who shot a 13 on hole No. 10 to give the HRV squad some serious breathing room as the Bulldogs had narrowed the lead on the front nine. Cimock posted a 94, Waller and Hay 95 and Whitehead 109 for a second-day total of 393 – the second-best two-day score in the Waller's coaching history.
"Laura was the big surprise for us," Waller said. "She's a new golfer this year, so shooting 92 and 95 was a huge boost for us. The real drama of the day came as Hermiston and Pendleton battled for second place."
The top two teams and top five individuals in the district qualify for state. With a post-season on the line, Hermiston had a narrow lead over Pendleton going into the 18th when a player – the same who had a very rough 10th hole – hit her second shot out of bounds, resulting in a triple bogie on the final hole of the tournament. Pendleton's Ashle Greb, who finished first individually with a two-day score of 171, had a bogey on the hole to give her team the one-stroke edge for second place.
Looking ahead to the state tournament, Waller expects the girls to finish in the middle of the pack, if they play as well as they did this week. For Whitehead, Hay and Cimock — all juniors – this will be the third trip to state in as many years, so they know what to expect. For Waller, a senior, it'll be her first.
"For the three who have already played at state, their experience will help quite a bit," Waller said. "We're not really sure what to expect as far as competition. We haven't played against a lot of 5A teams, so it's hard to say how we'll end up. The course at Quail Valley is longer that what the girls are used to. Cory and Alicia can hit the ball pretty far, so that may play to their advantage. Alicia is very steady down the center of the fairway, which can also play to her advantage. For Gabriella, she's really improved over the season and is hitting the ball well. All four are very competitive, so it will be interesting to see how they perform at state."
Waller gave a special thanks to Hood River's two golf courses for providing the team with free golfing and to Indian Creek Golf Course for hosting home tournaments this season.
"Their support has made a big difference for our program," he said. "Not a lot of teams get that."
More like this story
Latest stories
Latest video:
I Can't Keep Quiet singers at "Citizen Town Hall"
'I can't keep quiet,' sing members of an impromptu choir in front of Hood River Middle School Saturday prior to the citizen town hall for questions to Rep. Greg Walden. The song addresses female empowerment generally and sexual violence implicitly, and gained prominence during the International Women's Day events in January. The singers braved a sudden squall to finish their song and about 220 people gathered in HRMS auditorium, which will be the scene of the April 12 town hall with Rep. Greg Walden, at 3 p.m. Enlarge