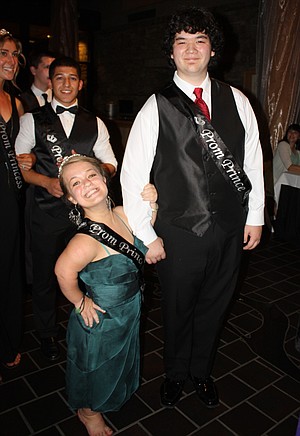 Last Saturday, the Hood River Valley High School had its 2013 Prom at The Dalles Discovery Center. James Bond was the theme of the event, with dice centerpieces, silhouette decorations, and "you're the bomb" decorated Rolos.
With elements such as a chocolate fountain and photo booth, the HRVHS Prom was considered a success.
Every year, four senior boys and girls are chosen by the student body to compete for royal status. This year's Prom Court female representatives were Natalia Ames, Hallie Curtis, Hannah Hurley and Sam Graham.
The male representatives were Eric Hamada, Kyle Beam, Cesar Romero and Hayden Miller.
This year the Court members are involved with multiple activities and sports such as participating in basketball, robotics, baseball, lacrosse, and GSA club.
Later in the evening, Eric Hamada and Sam Graham were crowned as the HRVHS 2013 Prom King and Queen as voted by students and faculty who attended the dance.
"I couldn't really believe it at first. When I saw who was on court I didn't think I would win. I went and voted for someone else," Hamada said. "When we all walked up in front of everyone, they announced the King first and it all felt really fast. I just couldn't stop smiling and everyone seemed really happy for me. People were congratulating me for the rest of the night and it was really cool that my senior prom ended up with me as King. The whole night was really great and winning the crown was awesome. I'm really grateful for the people who voted for me," said Hamada.
"I found out I got on Prom Court last Wednesday, and that was exciting," Graham said. "At prom Eric and I walked together so it was cool that we both won King and Queen. They announced the King first, and I was so excited because I voted for him because he's a cool guy and he deserved being King.
"When they announced me it was indescribable; I was too happy. I'm thankful to everyone who voted for me, my friends and just the people who saw my name and circled it randomly. It was one of the best experiences of my life," she said. "My favorite part of it was just the honor of being on court with all these kids I've idolized over the last few years. It was such a great experience for my senior year."
Graham added, "The junior class representatives also did a great job planning prom and making it amazing – it was great."
Upcoming key dates at HRVHS:
May 30 — Mr. HRV pageant
May 31 — Senior sendoff assembly and all-school Luau
June 8 — 2013 Commencement
More like this story
Latest stories
Latest video:
I Can't Keep Quiet singers at "Citizen Town Hall"
'I can't keep quiet,' sing members of an impromptu choir in front of Hood River Middle School Saturday prior to the citizen town hall for questions to Rep. Greg Walden. The song addresses female empowerment generally and sexual violence implicitly, and gained prominence during the International Women's Day events in January. The singers braved a sudden squall to finish their song and about 220 people gathered in HRMS auditorium, which will be the scene of the April 12 town hall with Rep. Greg Walden, at 3 p.m. Enlarge