Wednesday, November 6, 2013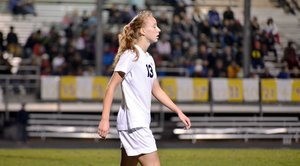 Facing a do-or-die game Friday night, the Hood River Valley High School varsity girls soccer team ended its season with a 3-1 loss against the No. 22-ranked Wilson Trojans. The Eagles had home-field advantage for state championship tournament play-in game after finishing the regular season ranked No. 11.
"They were a talented team that I think deserved a better ranking than they had," coach Kevin Haspela said of Wilson, which finished as 5A Special District 2 co-champions with No. 10 ranked Cleveland. "They took a very different strategy than what we wanted to do, and that kept us from getting into any kind of offensive rhythm."
The Trojans utilized the team's speedy offensive line by sending a lot of long and through balls, which kept the HRV midfielders and defense on their heels, not wanting to get pulled too far forward and then out-run in the backfield. Those adjustments meant a diversion from the Eagles' offensive strategy of controlling the midfield, working the ball up along the wings and sending center balls into scoring territory.
"We got caught up in their game instead of focusing on what we wanted to do offensively," said Haspela, recently voted Columbia River Conference girls soccer Coach of the Year. "I think overall it was a good game; they had some skilled players and scored some great goals. I think the girls are feeling a little down from the loss, but that's just because they care so much about the team and didn't want the season to end."
Wilson scored once in the first half off a free kick; HRV goalie Vanessa Silva made a diving save on the shot but deflected the ball in dangerous territory, which Wilson capitalized on. Still anyone's game in the second half, the Eagles came out appearing more composed and on-task. Another Wilson goal midway through the half, though, and a comeback win appeared out of reach.
"It didn't help that some of our key players weren't on the field," Haspela said. Senior captain Miga McCurdy was out sick, freshman playmaker Monique Diaz was pulled in the first half due to a head-on-head collision and stopper Jenissa Ramirez was out all game from an injury against The Dalles earlier in the week.
After re-establishing themselves in the midfield, the Eagles created a glimmer of hope with about 13 minutes in the game, when a one-on-one challenge between Korey Cimock and Wilson's goalie resulted in a penalty kick. Sindy Magana sunk the shot to put the girls to within a goal. A revived sense of hope and urgency over the next several fizzled quickly, however, as Wilson scored another goal with less than five minutes remaining.
Although not the result the team was hoping for, the game marked the end of a successful season. Earlier in the week a 3-1 win over The Dalles-Wahtonka gave the team the outright CRC title — a goal Haspela said the team had been working toward all season. Prior to that, the girls went undefeated in five straight CRC games (although two were ties).
"We improved as we went on and played our best soccer at the end of the year; that's what every coach hopes for," Haspela said. "Looking ahead, we graduated five seniors. We're going to miss them, but we have a lot of young talent moving up.
"We ended with three freshman and five sophomores on varsity; that's a lot of young players who are going to return next season with more experience and intelligence on the field."
Latest stories
Latest video:
I Can't Keep Quiet singers at "Citizen Town Hall"
'I can't keep quiet,' sing members of an impromptu choir in front of Hood River Middle School Saturday prior to the citizen town hall for questions to Rep. Greg Walden. The song addresses female empowerment generally and sexual violence implicitly, and gained prominence during the International Women's Day events in January. The singers braved a sudden squall to finish their song and about 220 people gathered in HRMS auditorium, which will be the scene of the April 12 town hall with Rep. Greg Walden, at 3 p.m. Enlarge