Wednesday, November 20, 2013
This week volunteers at Adopt A Dog have selected Jedidiah as the program's adoptable pet of the week. They describe him as follows:
"November is 'Adopt a Senior Pet Month,' and Jedidiah is one for the books! He's about 10 years old, a hound mix, and one might say he was a bit of a mess when he first arrived at the shelter back in August — OK, really, they would say he was a total mess, but let's be polite!
"In a nutshell, this big old boy was covered with tumors and ticks, eyes were icky, we couldn't get him to eat, and he was skinny as can be. His nails were so overgrown he had trouble walking, and he barely had a hair hanging off those bones.
"But he had spirit, and we knew he wasn't done yet. He would look you straight in the eyes and you knew he wanted more. Wanted to finally have a life — but boy, did he need a lot of work; much more than we could afford. We hoped to get him to a vet and maybe just do the bare minimum and make his life a little more comfortable and see what would happen.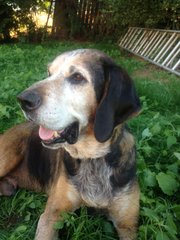 "But thanks to some incredible donors, enough money was raised to get that boy everything he needed and we got straight to work — starting with getting rid of all those pesky tumors, then on to a full dental work-up where he had several teeth pulled. They removed so much embedded cheat grass in his gums, it's why he couldn't eat — hurt too much!
"They also discovered his eyelids were curled under and scratching his eyes every time he blinked, which is why they were always so awful-looking. So Jedidiah got an eye lift! Yep — just like the movie stars!
"Jedidiah gets a special shampoo bath to get that hair back; he's eating up a storm and gaining weight, and trouble walking? Heck no! That boy likes to run! He's happy as can be and feelin' groovy! That gleam in his eyes is brighter than ever and now all he wants is a forever home to retire.
"Jedidiah loves to go on walks and loves a cozy bed (uh, but he's a bit of a snorer!). He's a lover through and through and isn't done discovering how great life is."
Jedidiah is current on shots, microchipped and neutered. The adoption fee for the boy is $115. The fee to adopt is charged to recoup standard veterinary expenses.
Since many of AAD's dogs are in foster care, please call ahead to meet Jedidiah at the Hukari Animal Shelter, 3910 Heron Drive, Odell; 541-354-1083. Adoption hours are Wednesdays from 5-7 p.m. and Saturdays from 9-11 a.m. Applications may be downloaded at www.hood-riveradoptadog.org and faxed to 877-833-7166.
The Adopt A Dog program offers 24PetWatch microchips, which include free registration into the 24PetWatch pet recovery service. (For more information visit www.24pet-watch.com or call 866-597-2424.)
Latest stories
Latest video:
Advertisement: Local Appreciation Sale at Big Winds