Wednesday, October 2, 2013
Four friends, three mountain peaks and 115-miles of trail in 72 hours: This is one epic exploit that few places in the world could accommodate so readily and few people could accomplish, but for Michael Stevens, the adventure was just down the road.
Stevens and three friends, all Seattle-area endurance athletes, thought up the three-peaks idea in 2012. They had done plenty of races and competitions — marathons, ultras, triathlons, etc. — and wanted to try something different; something that would combine the masochistic physical punishment endurance athletes chase with a grander and unforgettable experience in nature that the only a place like the Pacific Northwest can offer.
They would run the around-the-mountain trails on Mount Hood, Mount Adams and Mount St. Helens in three consecutive days, carrying the lightest provisions possible and stopping only long enough to rest, refuel and recoup before driving to the next mountain and starting over.
Of the three around-the-mountain trails, Hood is the longest at 40 miles; Adams is 35 miles and St. Helens is 30.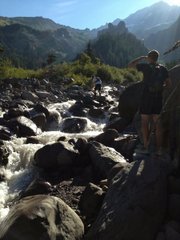 "We weren't looking for a race or a competition, but an adventure that wasn't about a time or who could do it faster," Stevens said earlier this month upon completing the trip. "It would be about working together, enjoying a multiple-day trip and taking our time to get from point A to point B — or in our case from point A to point A. We chose to create our own adventure so that it wasn't about being in a race or competing, but the overall time to get around the mountains and the drive time in-between them turned our adventure into a race for time anyway."
Of the four friends, Stevens was the only one to complete all three mountains.
After assembling in Hood River the day before, Stevens, Brett Kruse and Tom Leptich started about 7 a.m. Sept. 12 at the base of Mount Adams. They knew the trail would be a challenge, especially since a good section of it is very rough or non-existent, but they had GPS devices to keep them on track. In light running gear and trail shoes, the three departed carrying hydration packs, emergency kits, filtration devices to draw water from streams and springs, navigation equipment and trail food (including Hood River-made Pocket Fuel, which they say they quickly came to appreciate).
"Adams was the most technical of the three because of the non-trail section," Stevens said. "One thing I learned from the trip is to take more time to research and plan. These are serious adventures."
Stevens said a major highlight of the mountain was when they came across a group of about 15 mountain goats, which they hiked with for nearly an hour.
Due to getting off-track a couple of times, they didn't reach camp until after dark and had to run with headlamps. After a quick few hours rest they packed up and drove to Timberline Lodge.
The second phase of the trip would include Stevens, Kruse and Ian Pund. Starting at the lodge at sunrise, the three ran clockwise around the Timberline Trail.
"Mount Hood is as pretty special and grandiose mountain," Stevens said. "I've always thought it was beautiful from Timberline, but you really see its beauty when you get to the west side of the mountain."
He said the first 10 or so miles of the trail were the hardest due to so much elevation change.
"We made great time for the first half of the day until Brett's knee said enough is enough," Stevens noted. "Luckily for us, Tom had taken the day off and we could get cell service for much of the run. Brett took Elk Cove trail down the north side of the mountain and Tom picked him up. Ian and I pushed on."
The pair was delayed at about the halfway mark when they reached the Eliot Glacier moraine, where a section of trail washed out in a 2006 landslide.
"When we got to the Eliot Glacier washout I was bonking," Stevens said. "I was ready to find any excuse to turn around, track down Brett, make sure he was OK and finish the run. Luckily Ian kept me eating and drinking to refuel the fire and pushed us up the mountain. We found a rope to help us get down the washout wall and after getting through that area it was smooth sailing from there."
The two arrived back at Timberline Lodge after dark, got a quick bite to eat in the Lodge, got in the car and drove straight to Cougar, Wash., where they got another three hours of sleep before starting around Mount St. Helens. Stevens and Leptich would complete the final mountain together.
"I had been first exposed to running around volcanos from a trip I took with a buddy Craig around Mount St. Helens," Stevens said. "It really is a cool mountain and the most manageable of the three for a day's activity. That being said, on day three I was just hoping Tom would wake up and say he was ready to roll home."
Neither was willing to take responsibility for giving up, however, so they were off at sunrise to run 30 more miles by dinnertime.
"We made great time for the first five hours and then took a wrong turn and added an extra four miles and an hour and a half to the trip," Stevens said. "It was a silly mistake and one that should have been avoided, but when we found the right path we pushed on through the heat. We finished with daylight so spare and treated ourselves to a terrific burger in Cougar."
Stevens said it's hard to compare the three mountains because they're so different from one another, which made the trip even more memorable. Adams was technical, rugged, remote and very challenging; Hood was breathtaking and magnificent and St. Helens offered a unique landscape like nothing else in the Northwest.
"It was an incredible adventure filled with challenges, beauty, problem-solving and some sore muscles," Stevens said. "One thing I think we all realized from this fast-paced adventure is that we wish we would have had more time to stop, smell the flowers and enjoy everything each mountain has to offer. I feel like I got to know the personality of each mountain, but taking the time to set up camp, make dinner and listen to the overnight sounds gives you a whole different perspective on them."
Stevens says the group hopes to make the three peaks concept an annual adventure, although not necessarily the same mountains or mode of transportation.

More like this story
Latest stories
Latest video:
Advertisement: Local Appreciation Sale at Big Winds