Wednesday, October 9, 2013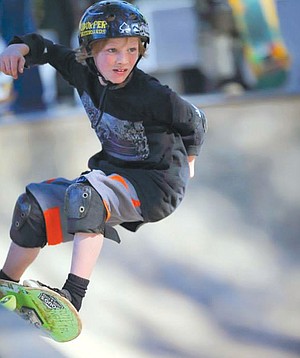 The fourth-annual Grominator skateboarding contest brought 32 kids to the Hood River Skate Park Saturday for what turned out to be the nicest, and driest, day in the last few weeks. Parents, volunteers and sponsors helped make the grassroots event a success. A variety of contests were held in the morning, such as highest ollie, kickflips, longest manual and best trick, and the afternoon hours were occupied by the bowl jam (see results below). For more photos search Grominator Skate Contest on Facebook.com.
Bowl Jam results
Boys 6 and ander
1st: Miles Hayden
2nd: Jude Freeman
3rd: Will Karlson
Boys 7
1st: Ethan Will
2nd: Parker Arneson
3rd: Ossy O'Connell
Boys 8-9
1st: Quintin LeVille
2nd: Milo Hayden
3rd: Max Jones
Boys 10-11
1st: Josh Dulac
2nd: Tanner Auzas
3rd: Kai Freeman
Boys 12-13
1st: Kyle Ward
2nd: Sean FitzSimons
Boys 14-15
1st: Tucker FitzSimons
2nd: Hank Huxoll
3rd: Daniel Eastman
Girls 10 and under
1st: Ava Kitt
2nd: Peri O'Connell
Girls 11-15
1st: Maddie Collins
2nd: Livia Molodyh
3rd: Christelle Auzas
More like this story
Latest stories
Latest video:
I Can't Keep Quiet singers at "Citizen Town Hall"
'I can't keep quiet,' sing members of an impromptu choir in front of Hood River Middle School Saturday prior to the citizen town hall for questions to Rep. Greg Walden. The song addresses female empowerment generally and sexual violence implicitly, and gained prominence during the International Women's Day events in January. The singers braved a sudden squall to finish their song and about 220 people gathered in HRMS auditorium, which will be the scene of the April 12 town hall with Rep. Greg Walden, at 3 p.m. Enlarge