Saturday, September 14, 2013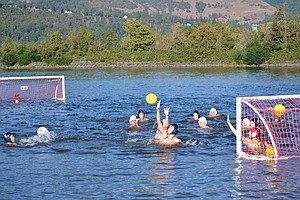 It was about 90 degrees Wednesday afternoon and 15 or so high school athletes were busy swimming and splashing around the Columbia River, in the calm waters of the Nichols Boat Basin. In a uniquely Hood River approach to training, the group has been utilizing the river for the last couple weeks, sharing it with paddle boarders, kayakers, windsurfers and kiters, while their regular area, the Hood River Aquatic Center, undergoes annual maintenance.
"We have got to be the only team in the country practicing and playing water polo in an open river," said Kellie Dunn, Hood River Valley High School's water polo team co-coach. "We're lucky to have a magnificent river to train in. Most teams don't have many options if their pool isn't available."
The club team was founded last spring and fielded 12 players by the fall season – enough to garner a junior varsity schedule in the Mt. Hood Conference. This season the team has 16 players (14 boys and two girls) and will field JV and varsity teams against 5A and 6A conference schools Centennial, David Douglas, Gresham, Reynolds, Sam Barlow, Parkrose and Sandy.
"There are high school teams all over the state now," Dunn said about the growing popularity of the sport in the Northwest. "Since we're so new, I think this year is going to be a shock for our team playing at the varsity level. There's a big difference between JV and varsity in water polo. The next couple seasons are going to be a tough part of building the program in Hood River."
Dunn, who is co-coaching the team with Dave Cameron, played for Westview in high school and was a member of a two-time state champion team before moving on to play for Div. 1 Santa Clara University.
Dunn says this year's team is full of strong swimmers, but a few stand out as key players. Connor Dunn, a senior and one of the team's founders, will play the position of whole-set. At about 6 feet 4 inches tall, his reach will be key to the very physical position front and center, where many of the goals are scored. Taller yet is junior Stan Ochesky, whose massive wingspan will be another key to the team's strategy this season at the position of whole guard — the defensive version of Dunn's position. Dunn and Tex Spezia-Schwiff will be captains.
Last season the team won about half of its games at the JV level and will have to step up its game if it wants to have the same success at the next level of action. As an early test of the competition, the team traveled to a preseason jamboree last weekend at Barlow, where it played a back-to-back sequence of seven mini-games.
Coach Dunn says the squad won one game and lost the rest; although several were pretty close. "I think it was a little overwhelming for them," she said. "A lot of the teams there played over the summer, so considering that, we came out strong and stepped up to the challenge."
On Thursday the team played its first full game of the season against Centennial. The JV squad powered through the competition for an 11-0 win while the varsity finished with a commanding 27-13 win.

Connor Dunn said of the game, "It felt good going into the water and actually playing a team after a whole summer of practice. We started out and we weren't sure what the other team was going to bring, but we figured out that a fast tempo could help us score. Thanks to all the practices that we did we had great endurance and were in good physical shape."
The team hosts its first home game Sept. 17 vs. Reynolds, 5:30 p.m. at the Hood River pool.
Latest stories
Latest video:
I Can't Keep Quiet singers at "Citizen Town Hall"
'I can't keep quiet,' sing members of an impromptu choir in front of Hood River Middle School Saturday prior to the citizen town hall for questions to Rep. Greg Walden. The song addresses female empowerment generally and sexual violence implicitly, and gained prominence during the International Women's Day events in January. The singers braved a sudden squall to finish their song and about 220 people gathered in HRMS auditorium, which will be the scene of the April 12 town hall with Rep. Greg Walden, at 3 p.m. Enlarge