Saturday, September 21, 2013
Patrick Olson, proprietor of Orchard Lanes Bowling Alley, has owned the Heights-area business since 2009, but he's no stranger to the industry.
Since the age of 15, Olson has held jobs in bowling alleys, continuing through college.
"Right after I graduated, my parents decided to buy (Orchard Lanes), so I've never done anything else," he said.
His parents, Jeff and Judy Olson, purchased Orchard Lanes in 1993 and opened on Sept. 3. Sixteen years to the day later, Olson purchased the family business, now in its 20th year.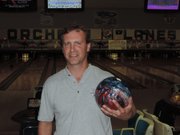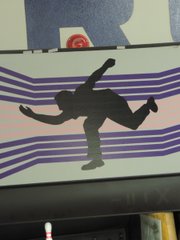 Olson grew up in Beaverton and moved to Hood River at the same time as his parents. Actually, he's the one who found the Hood River site.
"They sent me out when I was in college to hunt some places down," said Olson, noting that he also visited bowling alleys in McMinnville, Salem and Canby. "This is the one we could afford and were willing to take a chance on. It was just the right size. Most of the other places were quite a bit bigger … and a little scarier."
Olson is happy with his decision to move out of the city. He likes Hood River's small size and community. "You see a lot of familiar faces all the time," he said. "When I first moved here, I wasn't sure that would be good — growing up in the city, you never see the same people twice — but I love it."
He also loves the school system. He has three children, all of whom are in or have been in the Hood River County School District: Daughter Stefanie graduated from Hood River Valley High School in the spring and will be a freshman at the University of Oregon this fall; son Nathan is a freshman at HRVHS; and daughter Hailey is a fourth-grader at Westside Elementary.
Olson has seen many changes in his years in the bowling industry. It's harder to get people to commit to a league environment, he said, but feels Orchard Lanes is lucky because it has a solid league base.
The fall bowling league started right after Labor Day. Seventy teams — comprised of three to four individuals per team — make up seven leagues of varying levels. Just under 250 participate in league play every week, which is actually the same number of players they started with after taking ownership of the bowling alley in 1993.
"Industry-wide, the hardest thing has been to maintain the league base. In our case, we're separate from that — when we first started we had 250 league bowlers, and now we have 250."
Olson also noted that technology has changed — a lot.
"When we first bought the place, there was no automated scoring," he said. Scoring is now automated, and there are plenty of "brighter, flashier" electronics that give the bowling alley a modern feel.
Olson also runs his entire business from his iPad.
"Anyone who knows me knows it's never far from me," he joked. The iPad helps him with bookkeeping, as well as scheduling parties and keeping in contact with what's going on a the alley at all times.
"I can log in wherever I am and see what's going on, which is nice," he said.
Running the bowling alley doesn't feel like work to Olson. "The people — that's the best part," he said. "It's something different every day. It's entertaining."
Of course, there is work involved. Olson spends his days doing bookwork and maintenance. He keeps the bowling balls in good physical condition and takes care of any mechanical problems. He also runs the bowling leagues, communicates with people and directs employees.
"Basically I do everything," he said.
Orchard Lanes employs four, but is currently hiring.
"We're pretty small and our hours aren't huge," he explained. He's had all of his employees a long time, although Josh Worth has been with him the longest at 15 years.
Years ago, Orchard Lanes had the stigma of being smoky, said Olson, but that's not the case these days.
"It used to be a big deal to say 'non-smoking,' but in Oregon we just don't have to deal with that anymore," he said, referring to Oregon's Smoke-free Workplace Law. "It's a nice place to bring your family."
Because of that nonsmoking environment, Olson said open bowling and parties have doubled or tripled since his parents first purchased the bowling alley.
"It's a wonderful addition to our business," he said.
n
Orchard Lanes is located at 1141 Tucker Road and is open every day from noon to at least 9 p.m.
More like this story
Latest stories
Latest video:
Advertisement: Local Appreciation Sale at Big Winds