Wednesday, April 16, 2014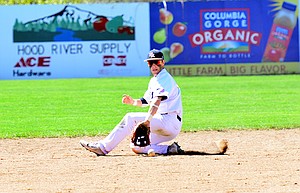 The Hood River Valley varsity baseball team was hoping to rise to the occasion in a home doubleheader Saturday against one of the best Class 5A teams in the state: the No. 2-ranked Bend Lava Bears. The Eagles (6-7) struggled through both games, however, as the Bears lengthened their winning streak from five to seven with 12-1 and 10-2 blowouts over the Eagles.

Although the underdogs, the result was surprising for Eagles and head coach Eric Harjo, who were hoping gain some important momentum going into the 12-game Columbia River Conference schedule.
"I would've never thought that with the caliber of team we have, we would come out and have a performance that appeared to resemble somewhat of a nightmare," said Harjo. "I really thought we were good enough to at least come out and get a win in the first game with Ryan Ward on the mound, because he's one of the best pitchers in the state."
Ward, a 6-foot-3 junior right hander, started on the mound in game 1 and had a strong effort early. The Eagles trailed the Lava Bears 1-0 after two innings before the roof caved in during the third as they committed five costly fielding errors that helped enable the Lava Bears to score eight runs and extend the margin to 9-0 after three.
HRV got a run up on the scoreboard in the fifth to avoid a shutout off. Junior second baseman Kam Walker (2-for-3, two singles, walk, fielder's choice) drove in Ward (2-for-3, single, double, fielder's choice), who earlier hit a double. Bend added a run in the sixth and two in the seventh for the final margin.
Bend outhit HRV 10-7, while the Eagles' total of seven errors was clearly a deciding factor in the loss. Senior Austin Martin (1-for-3, single), junior Willie Ishizaka (1-for-3, single) and sophomore Patrick Harvey (1-for-3, single) also had hits.
"It's hard to win if you can't put things together defensively," Harjo said. "It just wasn't in the cards for us today."
HRV took an early lead in Game 2. Sophomore Skyler Hunter (1-for-3, single) and senior Alix Jimenez (2-for-3, two singles) led off the first inning with consecutive singles. Hunter scored on an error when Kellan Duffy reached first on a Lava Bear miscue, giving the Eagles a 1-0 edge. Unfortunately the boys couldn't produce another hit until a sixth-inning Jimenez single.
Following a scoreless second, Bend knotted it up in the third at 1-1. In the same inning, a sunny day at the ballpark took a turn for the worse when Jiminez hit a line drive that struck Bend sophomore pitcher Kota Carter squarely in the face. Carter received a standing ovation as he was taken away by ambulance for medical care.
Bend responded well to the unfortunate injury and put four runs on the board in the fourth to build a 5-1 advantage. Bend extended it to 10-1 in the fifth. HRV got a run in the sixth on a sacrifice fly RBI by Jimenez for the 10-2 final.
The Eagles allowed a surprising total of 14 free passes to the basepaths in Game 2 as six Bend batters were hit by pitches and eight were walks. As they did in the first contest, Bend's offense was solid with 10 hits to HRV's two.
The Eagles move on to face No. 5-ranked Pendleton Buckaroos (7-5) in an April 19 noon doubleheader at home to start CRC action.
"We're looking forward to playing Pendleton next Saturday," said Harjo. "It's a new season, so it's like a fresh start and we'll try to put everything together for that game. We'll have a good week of practice and try to get the guys mentally prepared to play well. We'll put the preseason behind us now. Obviously, it's not where we wanted to be with a 6-7 record. I think after having a good week of practice, we'll be in pretty good shape to come and have a better performance versus Pendleton."
More like this story
Latest stories
Latest video:
Parkdale third graders sing "12 Disaster Days of Christmas"
Welcome to your sing-able Christmas gift list. What follows is an emergency rendition of "12 Days of Christmas" – for outfitting your home or car in case of snow storm, earthquake, flood or other emergency. Read it as a simple list, or sing it to the tune of "12 Days" – you know, as in " … and a partridge in a pear tree…" Not to make light of it, but the song is a familiar framework for a set of gift ideas that you could consider gathering together, even if the recipient already owns items such as a bunch of coats, tire chains and flashlights. Stores throughout the Gorge are stocked up on all these items. Buying all 12 days might be prohibitive, but here are three ideas for checking any of the dozen off your list (notations follow, 1-12.) The gift items needed to stay warm, dry and safe are also coded to suggest items in your abode (A) in your car (C) or both (B). 12 Gallons of Water (A) 11 Family meals (B) 10 Cans of propane (A) 9 Hygiene bags (B) 8 Packs of batteries (A) 7 Spare coats (B) 6 Bright red flares (C) 5 Cozy blankets (B) 4 Tire chains (C) 3 Flashlights (B) 2 cell phone chargers (B) 1 And a crush-proof first aid kit (B) Price ranges? Here's a few quotes for days Three, Two, Four and Nine: n A family gift of flashlights (three will run $15-30, Hood River Supply, Tum-A-Lum) n Cell phone chargers (two will run $30-60) n Tire chains (basic set, $30, Les Schwab, returnable if unused for the winter) n Family meals ($100 or so should cover the basics for three or four reasonably well-fed days) n The home kit should be kept in a handy place near an exit, and remember that water needs to be replenished every few months. If you have a solid first aid kit already, switch out the gift idea with "and-a-sto-o-u-t- tub-for it-all …" Otherwise, it's a case of assembling your home or car kits and making sure all members of the family know what the resources are and how to use them (ie flares and propane). Emergency situations are at worst life-threatening, at best deeply uncomfortable if you and your family are left without power for an extended period, or traveling and find yourself in a situation where you need to wait out a storm, lengthy traffic delay, or other crisis. Notes on the 12 gift ideas: 12 – Gallons of water: that's one per person in a four-member family to last for three days, the recommended minimum to be prepared for utility outages. 11 – Easy-open packaged goods, energy bars, dried food and nuts are good things to include for nutrition. Think of what your family of four needs for three days to stay fortified and hydrated (see number 12). Can-opener also recommended 10 – If you have a propane camping stove, keep extra fuel handy. 9 – Hygiene bags: put packaged moistened towelettes, toilet paper, and plastic ties in large garbage bags (for personal sanitation) Resource list courtesy of Hood River County Emergency Management, Barbara Ayers, manager/ 541-386-1213. The county also reminds residents to Get a Kit, Make A Plan to connect your family if separated, and Stay Informed. See www.co.hood-river.or.us to opt-in for citizen alerts. Enlarge