Wednesday, April 23, 2014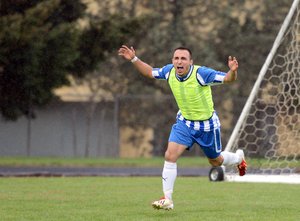 Gorge FC hosted Inter United of Seattle Saturday evening at Hood River Valley High School the newly formed semi-pro soccer team's first home league game since being formed last year. After breaking out with an exciting 2-0 first-half lead off goals from Raul Marquez — both assisted by Felipe Heredia — the home team lost steam in the second half, allowing four goals to finish with a 4-2 loss.
Gorge FC is among four semi-pro teams in the new Northwest Conference, which is one of 13 regional conferences in the longstanding nationwide league. The team, founded last fall by Brazilian native Thiago Samba under the name SO Samba FC, recently underwent ownership and branding changes and is now playing under its new identity. Although reluctantly, Rodger Sherrell officially took over ownership of the team earlier this month in the hopes of salvaging the program after personal issues with Samba threatened to derail it entirely. Sherrell, a health coach and independent Herbalife distributor, had been working as a fitness and nutrition consultant for the team over the winter when he was approached by Samba, who has since moved out of town, about taking over ownership.
"This is certainly not something I was looking to get into," Sherrell said of the transition in ownership. "But it was at a point where people were ready to walk away from the whole thing and leave the program, and the players, in the dirt. At this point our attitude is, the past is the past and the future is the future. Our focus is on the future of the program and what it can bring to the young athletes of the Gorge."
In addition to the adult NPSL team, Gorge FC is inheriting a youth program — now titled Gorge Youth Academy — that is already fielding U12, U14 and U18 teams competing in the Oregon Premier League. Sherrell admits his skills are in management and marketing, not soccer, so he has enlisted a base of coaches to work with the players.
"We're excited to have Edgaro (Gonzalez- Amaro) as our head adult coach," Sherrell said. Gonzalez-Amaro, who currently lives in Renton, Wash., brings nearly three decades of experience at the professional level, both as a player and a coach, to the program and has been a coach with the Seattle-based U15, 16 and 17 Pumas for the last six years. Longtime Hood River Valley High School coach Felipe Rayo will serve as the team's assistant coach. On the youth end, Sherrell says the adult team's goalie, Rafael Mondragon, has stepped up to the position of technical director for the Youth Academy, while Alejandro Aguilera-Cano, Jesus Elias-Guerrero, Rayo, Braulio Garcia, Mondragon and German Lopez are helping coach the teams.
Saturday's loss puts Gorge FC at 0-3 in the season, which runs 13 games starting in April and ending with a playoff tournament in July. Gorge FC's home field will be Hood River Valley High School, with games played Saturday nights at 7 p.m. Remaining home games on the schedule are May 3, 17, 24 and June 15, 21 and 28.
"Our fitness level had a lot to do with things in the second half," Sherrell said. "Our roster isn't full yet so most of our players were in the whole game, while the other team had subs to rotate in. We're continuing to improve every game, and having Edgaro in the picture to coach the team is going to start making a big difference."
For more info on the team, visit gorgefc.com or facebook.com/gorgefc.
Anyone interested in playing for Gorge FC, or sponsoring the team or one of its home games can contact Sherrell at 24fitathletes@gmail.com. The team will host youth tryouts this summer for the fall season.
More like this story
Latest stories
Latest video:
I Can't Keep Quiet singers at "Citizen Town Hall"
'I can't keep quiet,' sing members of an impromptu choir in front of Hood River Middle School Saturday prior to the citizen town hall for questions to Rep. Greg Walden. The song addresses female empowerment generally and sexual violence implicitly, and gained prominence during the International Women's Day events in January. The singers braved a sudden squall to finish their song and about 220 people gathered in HRMS auditorium, which will be the scene of the April 12 town hall with Rep. Greg Walden, at 3 p.m. Enlarge