Wednesday, April 23, 2014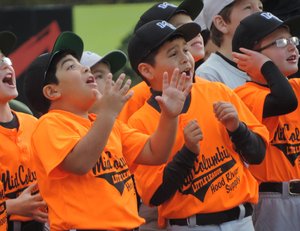 High points in Saturday's Little League Opening Day included the ceremonial first pitch — a high ball across the plate — by HRVHS varsity baseball coach Erich Harjo, flurries of fireworks amid teams of chilly but excited young players from T-ballers to teenagers lining the infield. Stands full of parents and grandparents added to the fun as the reconstituted Mid-Columbia Little League kicked off the season with gratitude for youth baseball leaders of the past.
"I remember exactly these days as a kid as a T-baller and the excitement and joy all these young people have. I am so thrilled to be a part of what's going on here today," Harjo said.
This was the first year the opening day ceremony was held at Traner Field, HRVHS baseball's home field, rather than at the St. Mary's baseball complex, traditional home to the Hood River program.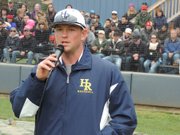 Things got started with the national anthem by Makenzie Bassham, complete with fireworks by the Lions pyro crew, and players in colorful new team uniforms ran out onto the field and around the bases (from home to first).
Sean Spellecy, president of the new MCLL board, said "It was those board members from Odell and Parkdale and Hood River that got us to this point. The board members who have gone before us we want to appreciate."
He called the names of Jackie Hasegawa, Brad and Stephanie Pickering, Michelle Hughes, Lisa Roberts, Gretchen Winans, Kim Yasui, Shay Baker, Julie and David Routson and Desi Zeller, though Roberts alone came forth.
When fireworks went off mid-sentence during introductions, Spellecy joked, "We're working on our timing." It was one of several surprising times the explosions went off, though they exploded as planned when Harjo's opening pitch met Majors player Grayson Losee's glove.
"These aren't as expensive as full-sized (rockets) and we just wanted to put on a show," said Paul Zastrow of the Lions pyrotechnics crew; players and adults cheered at grand finale lasting three minutes at the end of the ceremony.
Majors coaches Sal Rivera and Russ Gray were recognized along with 12-year-old players; Grayson Losee and fellow 12-year-old girls Hailey Hughes and Madelynn Trujillo drew tickets for the raffle at the end of the ceremony. Too few girls signed up for Majors softball this year, so the duo have essentially reached the end of their Little League careers.
"Hopefully, through the next couple of years we can get our Major softball teams back up in place," Spellecy said. Rivera and Gray "have been involved in Majors division for years, and put countless hours devoted to getting their kids ready," he said.
Spellecy introduced the new members of the MCLL board: Mikel Rivera, Odell; Keith Howell, Hood River; Mikal Lucas, Parkdale; Nathan Stanton, field operations; David Cunningham, head umpire; fundraising manager Kendra Huff; concessions manager Sarah Leiblein; coaching coordinator Nathan Duckwall; player agent Michelle Jacobs; treasurer Jodie Losee; safety officer Vince Wilson, secretary Melanie Nicholson, and vice president Eric Foster.
"We had to start from scratch and work together to get this together," starting in October, Spellecy said. "The players are the most important people in Little League, and the second most important are the coaches who put in time to work with your kids, but without the board we wouldn't have a program."
He introduced Harjo, saying "the goal of Little League is to develop a set of skills and terminology and follow them all through high school, from T-ball on up."
"I've spent 25 years of my life on this game and nothing in my life has given back as much as baseball," Harjo said. "It goes beyond the actual game and the wins and the losses. It takes me back to how I want to be remembered as a person and the philosophy and character I try to instill in my athletes, and it gives me a lot of pride."
Harjo turned to the players and said, "The most important people in your life are standing here, that's your teammates, your coaches and your parents. Without those people in your life you're not going to go very far. That's my big takeaway; day in and day out I think about that. Love your teammates, love your coaches, and thank your parents and show them as much love as you can because without them none of this would be possible."
More like this story
Latest stories
Latest video:
I Can't Keep Quiet singers at "Citizen Town Hall"
'I can't keep quiet,' sing members of an impromptu choir in front of Hood River Middle School Saturday prior to the citizen town hall for questions to Rep. Greg Walden. The song addresses female empowerment generally and sexual violence implicitly, and gained prominence during the International Women's Day events in January. The singers braved a sudden squall to finish their song and about 220 people gathered in HRMS auditorium, which will be the scene of the April 12 town hall with Rep. Greg Walden, at 3 p.m. Enlarge