Cascade Pet Camp in Hood River and Home at Last in The Dalles have teamed up as part of a community effort to shelter the growing number of displaced pets from the Rowena fire, according to a press release.
With approximately 600 people from 275 homes evacuated in the Gorge and many of them heading to the homes of friends and family or to the local Red Cross Shelter, pets are also among the displaced. The Home at Last Humane Society in The Dalles received several calls this week after the nearby homes of several dogs were threatened. With a facility already bursting, they agreed to take in as many dogs as possible.

It wasn't long before there were enough dogs needing refuge to fill the entire shelter. That's when Jenni Lott, owner of Cascade Pet Camp, got the call and joined the efforts.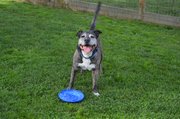 Board member Suny Simon and her husband, Dave, were among the Home at Last staff members and community members from The Dalles and Hood River who banded together with trucks, trailers, and service vans to relocate the shelter dogs to temporary locations.

"Everyone came together. It was awesome!" said Suny. "And honestly, if it wasn't for Jenni, a lot of those big dogs would have had nowhere to go."
Cascade Pet Camp, a pet boarding facility that takes a summer camp approach to pet boarding and daycare, took on 11 of the largest dogs. With luxury rooms and outdoor activities, the shelter dogs are having the time of their lives, getting a sort of vacation during a time of community need.

Lott says the call wasn't unexpected. "We do this anytime there's a fire in the Gorge. We'll take misplaced animals in the event of emergencies like this or even after house fires."
She said this kind of charity isn't uncommon among the tightknit communities along the Columbia River Gorge.
Two dogs will remain behind, at the insistence of the staff, as resident campers until they're adopted. "What do you expect?" said Lott. "We're dog lovers here. It was bound to happen eventually!"
More like this story
Latest stories
Latest video:
Advertisement: Local Appreciation Sale at Big Winds