Wednesday, January 15, 2014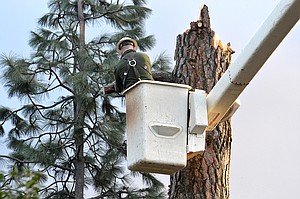 If you were one of the well-over-1,000 people who lost power Saturday morning, you can blame Mother Nature.
A winter storm that rolled into the Gorge from the Pacific Coast early Saturday morning produced winds that reached speeds of over 50 mph and were responsible for knocking out power to 1,144 customers in the Hood River area.
Tom Gauntt, spokesperson for Pacific Power, reported that the winds put "trees in the wires" at Frankton Road and May Street as well as Phelps Creek Drive on the west side of Hood River, knocking out power shortly after 6 a.m. Saturday. Crews arrived on scene to make repairs and restored power to all but 260 customers by 9:30 a.m. Service was restored for the remaining customers shortly after 12:30 p.m.
On the other side of Hood River, Kathy Eastman didn't lose power at her residence at the end of Eliot Drive, but a 130-foot ponderosa pine in her front yard split in half due to the high winds early Saturday morning and narrowly missed crushing her husband Eric's workshop located just behind the house. A portion of the tree landed mere feet away from where a natural gas heater warms the workshop and Kathy was fearful the falling tree might have caused a fire had it hit the heater.
Kathy watched Columbia Tree Service clean up the debris Monday morning, felling remaining branches and tossing them into a wood chipper. She lamented the loss of the tree, which she said was healthy and hadn't been blighted by the bark beetle epidemic affecting the Hood River Valley, but was thankful it didn't hit the house and joked that "we have more of a river view now," since the tree had fallen.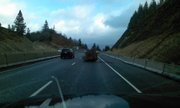 The weather created more hazards early Sunday afternoon when a boulder — described as "the size of a Volkswagen Beetle" by Oregon State Police — dislodged from an embankment near milepost 61 of Interstate 84 and rolled over a concrete barrier onto the freeway, coming to rest in the right eastbound lane. No one was injured and no vehicles were hit by the boulder, which took the Oregon Department of Transportation two hours and some heavy equipment to remove. OSP and ODOT advised motorists after the incident to "be alert for the potential of falling rocks, slides, and other roadway obstructions" during periods of wet weather and high winds.
Winds also gusted over 50 mph up on Mount Hood but could not keep droves of skiers and snowboarders from enjoying the prodigious snowfall that accompanied the storm. Dave Tragethon, marketing and sales director for the Mt. Hood Meadows Ski Resort, said a total of 10,000 skier visits were logged by the resort on Saturday and Sunday. Powder junkies who have been suffering from withdrawal this season finally got a fix from a snowstorm that doubled the resort's snowpack, which stood at a depth of 78 inches at mid-mountain Tuesday morning. Meadows' parking lots quickly reached capacity during the busiest weekend of the season and shuttles were dispatched to pick up extra skiers from Welches Middle School and the parking lot of the Mount Hood Country Store.
The National Weather Service forecast calls for calmer winds in Hood River for Wednesday and Thursday with slight chances of rain throughout the week and high temperatures in the mid- to high 40s. The weather is predicted to be similar at Meadows throughout the rest of the week, with slight chances of snowfall for Saturday and Sunday night.
More like this story
Latest stories
Latest video:
I Can't Keep Quiet singers at "Citizen Town Hall"
'I can't keep quiet,' sing members of an impromptu choir in front of Hood River Middle School Saturday prior to the citizen town hall for questions to Rep. Greg Walden. The song addresses female empowerment generally and sexual violence implicitly, and gained prominence during the International Women's Day events in January. The singers braved a sudden squall to finish their song and about 220 people gathered in HRMS auditorium, which will be the scene of the April 12 town hall with Rep. Greg Walden, at 3 p.m. Enlarge