Wednesday, January 22, 2014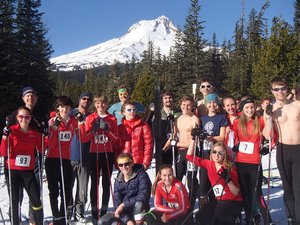 A tough training regimen, proper waxing and home course advantage paid off for the Hood River Valley Nordic Team as it celebrated a landmark victory Saturday after besting Bend High and Summit for the first time in team history.
Saturday's home race, held at Teacup Lake Nordic area, featured a showdown in the boys field that ended with HRV's Juho Muhonen, Sam Wiley, Daniel Fisher and Leif Bergstrom finishing in the top 10 to propel the team to a first-place finish over Bend and Summit to round out the top three. The league win was a first-ever for the burgeoning HRV team competing in the Oregon High School Nordic Organization, which has typically been dominated by Central Oregon schools.
HRV freestyle team competes
After a slow start to the season due to limited snow, the HRVHS freestyle ski team competed over the weekend in USASA slopestyle and rail jam events at Mt. Hood Meadows. Results are as follows.
Girls slopestyle:
1st Hannah Bergemann
2nd Savannah Boersma
3rd Laura Scarborough
Boys slopestyle:
1st Tucker Fitzsimmons
2nd Torsenn Brown
Girls rail jam:
1st Hannah Bergemann
2nd Savannah Boersma
3rd Casey Sherrerd
Boys rail jam:
1st Jackson Lebsack
2nd Tucker Fitzsimmons
Muhonen, quickly establishing himself as one of the fastest racers in the state, won the race with a time of 14:04 — more than a minute ahead of second place finisher, Wiley, also of Hood River, who had a final push to inch ahead of several other racers in hot pursuit.
Head coach Bonnie Lambert said she was "beyond proud and excited to have our first league win."
The HRV girls team finished third overall behind a dominant Summit squad that claimed the top seven places and a closer-matched Bend team who was just two points ahead in the final standings. Delia Dolan was the team's top finisher with a 13th-place time of 21:15.8, followed by Lauren Robinson, Daisy Dolan, Denali Emmons and Miranda Starr all in the top 21 out of a field of 73.
The team trains the next couple of weeks to prepare for the Jan. 31 night race at Mt. Hood Meadows Nordic Center. For Wiley, Engbersen, Robinson, Fisher and Bergstrom, the season continues this weekend with a Junior Olympic Qualifier race at Mount Bachelor.
HRV boys:
Juho Muhonen, 1st, 14:04
Sam Wiley, 2nd, 15:06
Daniel Fisher, 5th, 15:08),
Leif Bergstom, 9th, 17:38
Jesse Wiley, 11th, 17:38
Mason McDonald, 12th, 18:00
Joey Slover in 32nd, Billy Edwards 36th, Emmett Becker 44th, Alex Chadney 48th, Jake Broham 62nd
HRV girls:
Delia Dolan, 13th, 21:15
Lauren Robinson, 15th, 21:37
Daisy Dolan, 16th, 21:42
Denali Emmons, 18th, 21:45
Miranda Starr, 21st, 21:45
Victoria Kohner-Flanagan 34th, Eva Kahn 37th, Terri Hewitt 45th
Latest stories
Latest video:
I Can't Keep Quiet singers at "Citizen Town Hall"
'I can't keep quiet,' sing members of an impromptu choir in front of Hood River Middle School Saturday prior to the citizen town hall for questions to Rep. Greg Walden. The song addresses female empowerment generally and sexual violence implicitly, and gained prominence during the International Women's Day events in January. The singers braved a sudden squall to finish their song and about 220 people gathered in HRMS auditorium, which will be the scene of the April 12 town hall with Rep. Greg Walden, at 3 p.m. Enlarge