Wednesday, January 22, 2014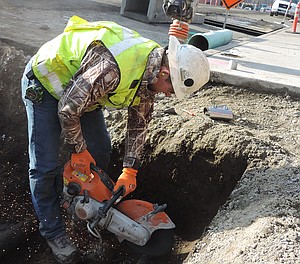 Crestline's Jake Hamilton sat in the excavator with its toothed-bucket the size of a small dorm fridge and nudged a 10-inch trowel off a concrete box he needed to pick up.
The tool fell away as if Hamilton had reached down with his thumb and forefinger and moved it aside.
Men with skills are on the job on the City of Hood River's $5 million Urban Renewal State Street project, and with the help of cool, dry weather, the URD is three months ahead of schedule. The project should be complete in May 2014.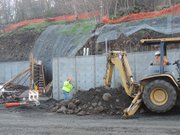 Project Timeline
Urban Renewal State Street project dates are weather dependent:
Jan. 21 — Sidewalk demolition starts, at First Street
Jan. 27 — Street closure begins on Oak and Front streets, between State and First
Mid-March — Sidewalk demolition ends
Mid-March (projected) – Installation of new underground "dry" utilities
Late May – Project completion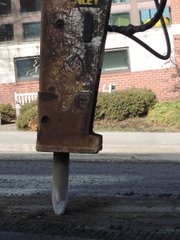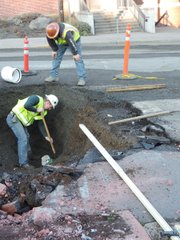 Work started last fall with gradually increasing cutting of trenches in State Street for new water, storm and sewer lines, and increasing disruption of traffic, primarily between Sixth and Second streets.
(While the weather has been favorable, the underground landscape yielded more large rocks than anticipated, which added to excavation time.)
State Street Urban Renewal is nearing the halfway point, with two significant shifts in the coming weeks:
n Removal of sidewalks was scheduled to start Jan. 21 at Second and Oak streets in front of Sheppard's. The busting of concrete will move westward over the course of the next month.
n Street excavation starts on Front Street at Oak Street on Jan. 27. Oak will be closed completely from First around the corner to State — though pedestrian access will be provided.
"The contractor is working closely with property owners to ensure as little disruption as possible," City Engineer Gary Lindemyer said.
The city has awaited a right-of-way permit from the Oregon Department of Transportation before beginning that phase of the project.
As the sidewalks are removed, Crestline crews will start on one of the more noticeable parts of the overall project: undergrounding of overhead lines. Those "dry utilities" — power, phone and Internet — will be placed underneath the new sidewalk.
Dusty Long of general contractor Crestline Construction of The Dalles said businesses have been notified of the specific times when the sidewalks will be removed from in front of their storefront.
"We're going to try to make it as little-impact as possible," Long said. "The sidewalks should be open the whole time; other than those portions of the day when we're right in front of a business."
Sheppard's will be first.
"They're looking forward to getting it out of the way during their slow time of year," Long said.
He said the Astro service station, located at the corner of Front and State, will remain open throughout the project; though the east-bound access to the pumps may at times switch to a west-bound approach, according to Long.
The pace of the sidewalk replacement, and dry utility installation, is truly weather-dependent, Lindemyer said.
When the Oak Street portion starts as early as next week, traffic will be routed up Second and onto State. Work on State Street will be limited to the portion between Second and Front.
In that eastern section of State, the retaining wall is complete around the city parking lot, and utility installation continues on the upper sidewalk between First and Second. For that block, there will be a street-level sidewalk, just as before, and a new upper walkway, starting at the existing Overlook Memorial Park stairwell, looping to a new stairwell across from First. The city has installed utility heads and has planned for sidewalk extensions and tie-ins to property above the sidewalk, for future residential or commercial development there.
In terms of traffic impacts at State and Second, Long said he anticipates the same challenges as at Sixth and State streets, with flaggers and plenty of traffic control; motorists should expect delays.
Following demolition of the sidewalks, the crews will grade the street, install curbs and gutters, and then pour the sidewalks. After that comes the new street surface itself, likely in the middle of May.
More like this story
Latest stories
Latest video:
I Can't Keep Quiet singers at "Citizen Town Hall"
'I can't keep quiet,' sing members of an impromptu choir in front of Hood River Middle School Saturday prior to the citizen town hall for questions to Rep. Greg Walden. The song addresses female empowerment generally and sexual violence implicitly, and gained prominence during the International Women's Day events in January. The singers braved a sudden squall to finish their song and about 220 people gathered in HRMS auditorium, which will be the scene of the April 12 town hall with Rep. Greg Walden, at 3 p.m. Enlarge