Saturday, January 25, 2014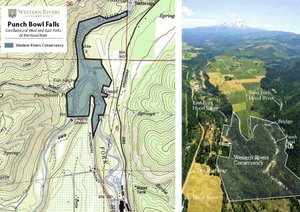 There are plenty of options in the Gorge for a summer swim, but Punchbowl Falls on the West Fork of the Hood River near Dee is a favorite of many.
The 10-foot-high waterfall is framed by pillars of columnar basalt, providing perfect diving platforms from which intrepid swimmers leap and splash into the plunge pool below. Those less interested in thrill-seeking can enjoy the beach and swimming hole located approximately a quarter-mile downstream at the confluence of the West and Middle forks of the Hood River.
And if all goes well, the land might become the county's newest public park.
Hood River County is currently seeking a grant from Oregon State Parks to help purchase 102 acres of land along Punchbowl Falls from Western Rivers Conservancy — a Portland nonprofit that currently owns the land and is more than willing to sell.
During Monday's meeting of the Hood River County Commissioners, WRC Vice President Phil Wallin said his organization would sell the land to the county at half its appraised value of $1.1 million so that it can be developed as a park for the public to enjoy.
"It would be good if it were a county park because it's kind of an iconic place for Hood River Valley," he told commissioners, "and most people have been there and enjoyed it and it would be nice to think that it was going to be protected for their kids."
Wallin said WRC's sole role is to acquire "the most outstanding rivers in the western United States" for conservation purposes. WRC bought 20 of its 102 acres along Punchbowl Falls from Longview Timber in 2006 and the remainder from PacifiCorp in 2010 for the purpose of preserving the land for public access.
In addition, Wallin said the area around Punchbowl was "incredible" fish habitat and described the steelhead as "some big honkers" in that section of the river.
"To me, the cool thing about it is you've got a deeply incised river bottom and then you've got nice, public, day-use access, day-use area up on top that doesn't really impinge," he said. "So, you could kind of have a combination of habitat protection and public use and that's, to me, exactly what we want to see. We want to see land use for fish wildlife and people."
Wallin suggested the county apply for a $550,000 Oregon State Parks grant to purchase the land from WRC and offered to set up a development and maintenance fund for the proposed park.
This is not the first time WRC has tried to sell the land to the county. Wallin said during the meeting that the county has been denied the grant three times over the past few years for different reasons.
"We're hoping the fourth year is the charm," he said.
Heidi Ochsner in Hood River County Administration reported that the outcome of the county's grant request would likely be known by this summer.
More like this story
Latest stories
Latest video:
I Can't Keep Quiet singers at "Citizen Town Hall"
'I can't keep quiet,' sing members of an impromptu choir in front of Hood River Middle School Saturday prior to the citizen town hall for questions to Rep. Greg Walden. The song addresses female empowerment generally and sexual violence implicitly, and gained prominence during the International Women's Day events in January. The singers braved a sudden squall to finish their song and about 220 people gathered in HRMS auditorium, which will be the scene of the April 12 town hall with Rep. Greg Walden, at 3 p.m. Enlarge