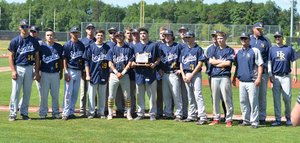 The final play of Saturday's OSAA 5A state baseball championship between Hood River Valley and Sandy high schools came down to a high pop fly in foul territory beyond the first baseline. Down 8-3 with two outs, the chance of an HRV comeback was slim to none, and Sandy's first basemen sealed the victory, and the Pioneers' first-ever state baseball title, by catching the fly ball directly over the heads of the HRV lineup watching from Volcano Stadium's visitor's dugout.

HRV: 3 runs, 5 hits, 1 error
Sandy: 8 runs, 7 hits, 3 errors
Although it was a tough way to end the season, HRV baseball has plenty to celebrate. After entering the state bracket ranked 19th, the Eagles went on an improbable and exciting winning streak that included major upsets over No. 3 Springfield, No. 6 Pendleton and No. 2 Crescent Valley on the way to the team's first state finals appearance since 1993.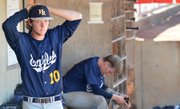 For Sandy, the game capped a winning streak of 18 out of the past 19 contests and was an impressive fifth-straight victory for senior pitcher Carson Dwyre, who held an earned run average of just 0.23 in those five games.
In a marathon first inning that lasted a little more than an hour, the Eagles opened the game with an upbeat offensive start that resembled their semifinal win over Crescent Valley a few days before, when they scored five runs in the first inning of the 8-1 stomping. Skyler Hunter, Alix Jimenez and Kellan Duffy all singled in short order to load the bases with no outs and put the Pioneers on their heels. Ryan Ward hit a pop-up to third base for the first out, then Patrick Harvey singled to left to score Hunter and again load the bases. With the play at home, Kam Walker hit up the center to Dwyre, who wildly overthrew to his catcher and allowed Jimenez and Duffy to score on the error. Sandy put the next two batters out to strand two HRV runners and keep the damage to three runs.
With the midday sun scorching players and fans, Ryan Ward took to the mound in the bottom of the first for his fourth start of the state tournament. Although Ward notched six strikeouts in four innings pitched, he seemed to struggle to find a rhythm against Sandy's offense.
"They were very aggressive as hitters," coach Erich Harjo said. "It seemed like they were swinging at almost every pitch, and Ryan's rhythm just wasn't there."
Sandy hushed HRV's early momentum by scoring two runs in the bottom of the first, off a double, a walk and two singles, before HRV could close the inning.
"Hats off to Sandy, and especially to Carson (Dwyre)," Harjo said. "He's the real deal. He kept us off-balance and off-rhythm all game. We just couldn't get anything going off of him."
Ward showed signs of tiring in the bottom of the third, as he struck out two batters but walked three before Harvey got the final out — a catch in left field — with the bases loaded.
As the saying goes, the wheels fell off for the Eagles in the fifth inning. With two outs and two men on base, Sandy rallied to score four runs off a walk, four hits and an error before Walker, who replaced Ward on the mound during the upheaval, could close out the inning with a strikeout.
"They really didn't look back from there, and we just couldn't get our bats going," Harjo said.
Sandy scored two security runs in the bottom of the sixth off two walks, a single and a wild pitch for the final margin. Meanwhile, Hood River put in a good offensive effort — only four batters struck out — but Sandy's defense played a tight game, and made all but a couple plays for outs. In all, popflies and groundouts accounted for 15 of Sandy's outs.
For HRV baseball, an appearance in the state finals was a momentous accomplishment, and with just three seniors (Jimenez, Connor Olson and Austin Martin) on this year's roster, Harjo says he's excited for the future of the program.
"We really came together as a team this season, and that's very important to me," Harjo said. "When you look at our season and what we did leading up to the playoffs, we struggled quite a bit. But the maturity and growth the team showed was a huge success. We started seven guys who will be back next year. With so many returning, the amount of experienced we gained in the playoffs is going to be huge."
Latest stories
Latest video:
I Can't Keep Quiet singers at "Citizen Town Hall"
'I can't keep quiet,' sing members of an impromptu choir in front of Hood River Middle School Saturday prior to the citizen town hall for questions to Rep. Greg Walden. The song addresses female empowerment generally and sexual violence implicitly, and gained prominence during the International Women's Day events in January. The singers braved a sudden squall to finish their song and about 220 people gathered in HRMS auditorium, which will be the scene of the April 12 town hall with Rep. Greg Walden, at 3 p.m. Enlarge