Hood River's Chantelle Carter will soon be headed to one of the largest rodeos in the world: the Silver State International Rodeo in Winnemucca, Nev., June 27-July 5. Carter, an outgoing freshman at Horizon Christian School, qualified for the renowned high school rodeo in two events, barrel racing and the Queen competition, after finishing at the top of her class in both during the 16-event 2013-14 season that ended over Memorial Day weekend.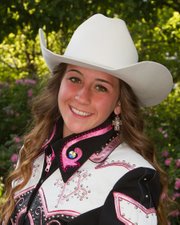 Although Carter is no stranger to rodeo circuits, a chance to compete at Silver State International is something she's dreamed about for the last several years but has only been able to pursue this year as a high school freshman. Among other accomplishments, last year Carter won the 4-H intermediate Barrels State Championship at the Oregon State Fair and traveled around the Northwest competing in junior rodeos on the NPRA circuit. She also rode in the opening ceremony of the 48th Annual Fort Dalles Days Rodeo with friend Jayden Shelton and competed in the rodeo's NPRA barrel contest against the pro circuit riders..
At SSIR, top contestants from the U.S., Canada and Australia compete in dozens of events in what has long been known as the largest high school rodeo in the world. Carter will compete in the time-based barrel racing category as well as the Queen competition, which is judges on horsemanship as well as categories like speech, modeling, rodeo knowledge, impromptu speaking, personal appearance and academics.
Although she lives in Oregon, Carter will be competing for the state of Washington in the rodeo. Riders can choose which state they want to compete for, and since almost all of her rodeo friends are from southern Washington, Carter decided to compete with them.
In addition to barrels, Carter also competes in poles, breakaway roping, goat tying and cow riding events. This weekend she'll be at barrel racing Saturday at the Glenwood Rodeo and at the Bickleton Rodeo Sunday, defending a buckle she won last year.
Carter is currently looking for sponsorships to help pay for her trip to Nevada. Anyone interested in sponsoring her is asked to call 541-806-3900.

More like this story
Latest stories
Latest video:
Advertisement: Local Appreciation Sale at Big Winds