For Second Wind Sports co-owner Erica Gerald, one word sums up the entire Hood River windustry: Stoked.
"People see the wind blowing and they are truly stoked — it's not just happy; it's not just excited; they're stoked!" Gerald said. "Seeing them on the beach, seeing them in the store, talking about who had the best session, who had the best location, who had the best wind … that's the best part, the talk at the end of the day."
Second Wind has been a Hood River landmark since 1986, and has undergone a few changes in its time — changes Gerald calls Second Wind versions 1.0, 2.0 and 3.0.
Version 1.0 was the shop's beginning with founder Julie Blenn. The first storefront was at 112 Oak St., where Yum Frozen Yogurt stands now, moving to its 210 Oak location just a year later. It was originally all-consignment — thus the name.
Version 2.0 was ushered in when the Geralds — Erica and husband Pepi — bought the business from Blenn in 2005. Both were familiar with the store, and both wanted to move to Hood River and run a business together.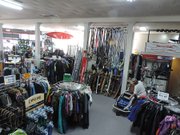 Erica, the founder of the Seattle Women's Windsurfing Club, and Pepi, president of the Northwest Board Sailing Association, would often bring groups to Hood River to windsurf. And each of these trips brought a "must-go" visit to Second Wind Sports.
"We'd go to other shops, but we always went to Second Wind to get people kitted out, or if something broke," Gerald explained. "We knew the store really well. It was a bit of a dream… we'd planned for 10 years to go into business together and had looked into different ways to do that. When the opportunity came to buy Second Wind, we jumped on it."
In October 2005, Second Wind came into the Geralds' ownership. The store is now 50-50 with consigned and new goods, a move that came at the suggestion of the shop's consigners.
"Our customers would say, 'I'm bringing things to consign, but I'd like to keep my money and business here,'" Gerald said.
Selling both new and used goods gives Second Wind a broad range of products to offer its customers; more product lines, budgets and skill levels can be matched, Gerald said. The shop sells equipment for 14 different sports and outdoor activities, including skiing, snowboarding, windsurfing, kiteboarding, stand-up paddling, camping and backpacking.
"It gives customers the full circle of the store," she said. "It's been really nice."
Version 3.0 happened just this spring, when the Geralds moved the business to the store's new location at the corner of Second and State streets.
It wasn't an easy decision — Gerald likens it to being in a great neighborhood with great neighbors and not wanting to leave — but what she'd see from her loft office space in the old store gave her a unique perspective on the challenges customers were facing.
"I would see someone come in, buy a pair of skis or a stand-up paddle board or bring things on consignment, and they would have to park everywhere just to get an item to the store or out of the store," she said of their Oak Street location. Sometimes staff would help carry purchases to vehicles, taking them away from the store for 30 minutes at a time, interrupting service to other customers.
"Customer inconvenience is really hard to watch for me," she said.
The new location is more convenient for customers, she noted, with its two loading zones that make loading and unloading efficient and easy for both customers and staff. Another perk is State Street's plentiful off-street parking.
The building itself is bigger, and the Geralds have been able to expand their stock. The store is light and airy, thanks to two large picture windows, and has air conditioning.
"It's hard to watch someone put on a wetsuit in the summertime when your store doesn't have AC," she said. "Tiny little things make a big difference."
The store has many regular — but not necessarily local — customers, Gerald said. "We have quite a variety. We have a lot of locals, definitely, but we also have some very regular clients that come in from Seattle and Portland on a very regular basis. We have a handful of Canadians who come in consistently — they're truly regulars at our store.
"Our idea of local is more of the regular customer, people that come to our store specifically for what we have to offer."
Gerald was born in Kansas City, Kansas, moving to Seattle with her family at the age of 12. She graduated from Western Washington University with a bachelor's degree in science and biology; this is also where she met Pepi, a recreation major. Business ownership wasn't her first calling — she was doing etymology in wetland restoration in Corvallis when she and Pepi decided to purchase the store, she said.
The Geralds have two children, daughter Miyuki, 10, and son Colin, 6, who both attend Westside Elementary. When they're not working or at school, the family is enjoying life in the Gorge.
Hood River, she said, is "such a great place for families, for getting outdoors as your primary activity. Everything you want to do, you can do at about any level — low-impact or high-adrenalin, you can enjoy everything the Gorge has to offer.
"It's a very special place."
More like this story
Latest stories
Latest video:
Advertisement: The Men of Black Friday
The secret agents of Big Winds may not exactly be Tommy Lee Jones oand Will Smith, but they still discovered there is plenty of strangeness to be found in Hood River...especially once winter sets in. Enlarge