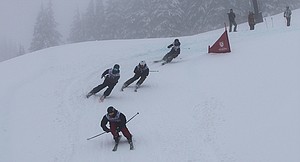 As expected, Saturday's OISRA Mt. Hood Ski League end-of-season ceremony was dominated by Hood River Valley High School boys and girls ski teams, who claimed first-place awards in every team and individual category.
Leading the girls, Lucy McLean won league honors in slalom, giant slalom and combined categories, while teammate Kelli Clark was second in slalom and combined and Korey Cimock was second in giant slalom and third in combined. Austin Keillor was first in all three categories for the boys, while teammate William Lamer was second in giant slalom, fourth in slalom and third combined.
Both boys and girls teams claimed overall champion honors as well after winning every league race of the season. The Dalles was runner-up in both categories, with Eli Holeman the top finisher for the boys at second in slalom third in giant slalom and second combined.
The HRV racers will see how they compare to the rest of the state's top skiers this week at the state championships, hosted at Mt. Hood Meadows Ski Area. After a practice day Wednesday, boys and girls will alternate slalom and giant slalom on Thursday and Friday.
Meanwhile, the HRV freestyle team competed in their state events Monday and Tuesday at Meadows. Full results from the event will run in the March 7 Hood River News, but highlighting Monday's action was Patrick Crompton's winning performance in the skiercross event. The freestyle team also won boys and girls league titles, although their competition wasn't much to speak of.
Finally, Hannah Bergemann and William Lamer were awarded the league's Ski Meister award over the weekend for being the top boy and girl skier in the league in a combination of freestyle and race events.

Leauge highlights:
Girls team: HRV 1st, The Dalles 2nd, St. Mary's 3rd
Boys team: HRV 1st, The Dalles 2nd, Grant 3rd
Girls slalom: Lucy McLean 1st, Kelli Clark 2nd, Sam Davies, 6th, Hannah Bergemann, 10th
Girls giant slalom: Lucy McLean 1st, Korey Cimock, 2nd, Kelli Clarke, 5th, Hannah Bergemann 10th
Girls combined: Lucy McLean 1st, Kelli Clark 2nd, Korey Cimock 3rd, Sam Davies, 10th
Boys slalom: Austin Keillor 1st, Chase Lariza, 3rd, William Lamer, 4th
Boys giant slalom: Austin Keillor 1st, William Lamer 2nd, Patrick Crompton 7th, Charlie Sutherland 7th
Boys combined: Austin Keillor 1st, William Lamer 3rd, Chase Lariza 7th, Oskar Anderson 10th
More like this story
Latest stories
Latest video:
I Can't Keep Quiet singers at "Citizen Town Hall"
'I can't keep quiet,' sing members of an impromptu choir in front of Hood River Middle School Saturday prior to the citizen town hall for questions to Rep. Greg Walden. The song addresses female empowerment generally and sexual violence implicitly, and gained prominence during the International Women's Day events in January. The singers braved a sudden squall to finish their song and about 220 people gathered in HRMS auditorium, which will be the scene of the April 12 town hall with Rep. Greg Walden, at 3 p.m. Enlarge