Wednesday, March 12, 2014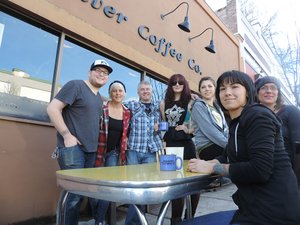 It's all in the barista.
Quality service and friendliness are the hallmarks of Dog River Coffee's ranking as one of the nation's top 10 coffee houses by USA Today newspaper.
Dog River, at 411 Oak St., gained high praise in the national newspaper's online edition on Feb. 28.
"It's a love thing," barista Lynette Scribner said of the honor.
Coffee houses in Chicago, Seattle, Portland, and smaller places such as Canyon, Texas, and Holland, Mich., made the list, compiled by Dave Heilbrunn, who runs the trade show Coffee Fest that promotes specialty coffee. According to USA Today, Heilbrunn works with industry expert Chris Deferio on an annual competition to find the country's top coffeehouses. They gave their list to USA Today writer Larry Bleiberg.
Learn about avalanches
Dog River Coffee hosts its annual avalanche awareness event tonight at 7 p.m.
U.S. Forest Service and NW Avalanche Center sponsor the presentation, which includes a short film, "A Dozen More Turns" by Amber Seyler, detailing a fatal avalanche accident in Montana.
Roland Emetaz of the U.S. Forest Service will cover identification of avalanche prone terrain; safe route choices in avalanche terrain; basic introduction to avalanche transceivers and how to use them; and group dynamics and how to safely navigate the backcountry in larger groups.
The event is free; coffee and beer are available for sale.
Of Dog River, Heilbrunn said, "This decade-old shop stands out for its staff's knowledge, speed and friendliness to regulars and newcomers alike. "It's a great place in a cool town, and the service is awesome. This could very well be America's best coffee shop."
"It is always wonderful to receive positive press about our business. It is quite a surprise and very nice when that recognition is in the national press," owner Nate DeVol said. "The USA today article grew out of our participation in the America's Best Coffeehouse competition in Seattle the last two years. We have been fortunate to have competed with some other great cafes the last two years in Seattle at Coffee Fest." Dog River took third in Northwest region in 2012 and second in the region in 2013.
Also on the list:
Muggswigz Coffee and Tea Co., Canton, Ohio; Ipsento, Chicago; Palace Coffee Co., Canyon, Texas; Klatch Coffee, Rancho Cucamonga, Calif.; JP's Coffee, Holland, Mich.; Peregrine Express, Washington, D.C.; Heart Coffee Roasters, Portland; State Coffee Bar, Seattle; Mudhouse Coffee, Charlottesville, Va.
"I believe that our staff has learned a ton from these experiences and been able to improve our products and service," DeVol said. "It is great to be mentioned in the same article as two other great Northwest (Slate from Seattle and Heart from Portland). We are humbled and honored to be included in a list of such great coffee houses."
DeVol was asked about Heilbrunn's statements about the quality of service for newcomers and regulars alike, and that Dog River "just might be the best coffeehouse in the country."
"As a group, all of us at Dog River Coffee make it our priority to treat customers with respect no matter if they are someone we have known for years, or have never seen before. Add to this a healthy dose of humor and a great product and I think we offer something special," he said. "I believe that this is what David Hielbrunn was getting at when he described his experience of Dog River in the USA Today article."
More like this story
Latest stories
Latest video:
I Can't Keep Quiet singers at "Citizen Town Hall"
'I can't keep quiet,' sing members of an impromptu choir in front of Hood River Middle School Saturday prior to the citizen town hall for questions to Rep. Greg Walden. The song addresses female empowerment generally and sexual violence implicitly, and gained prominence during the International Women's Day events in January. The singers braved a sudden squall to finish their song and about 220 people gathered in HRMS auditorium, which will be the scene of the April 12 town hall with Rep. Greg Walden, at 3 p.m. Enlarge