It takes a village to clean a pool.
Marcie Wily, Hood River Aquatic Center supervisor, would know. Wily is in charge of overseeing the building and grounds of the local swimming pool. She also schedules swimming lessons and lane allotments, coordinates party room rentals, and even has a hand in producing the pool's quarterly newsletters, among other responsibilities.
To keep operations running smoothly, Wily has a lot of helping hands, and she's grateful for each and every one of them.
"It's not a one-person deal — it takes many people to run this facility well," she said. "We have a great group of people, including Scott Baker and Lori Stirn." (Baker is assistant Parks and Rec director; Stirn is district director.)
She calls Baker "the mastermind" behind the pool's operations. "He tends to know a little bit of everything and how things work in our facility," she said. "Without him, we'd be lost."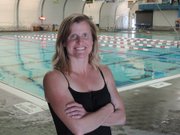 Although part of Parks and Rec, the Hood River Aquatic Center is responsible for maintaining its own facility. That includes everything from making sure the building is painted to picking up litter.
Every day, Wily and her staff regularly hose down the decks and gutters and pick up "any sort of messes that the patrons might make — which could include bodily fluids," she said.
There's also a lot of general cleaning and inspecting to do: Stainless steel needs to be polished and buffed because chlorine and humidity would otherwise corrode the surfaces; equipment such as life jackets and pool buoys need to be kept up-to-date and in good order; the rope swing needs regular waxing and the slide inspected.
She credits her staff — mostly lifeguards — for doing much of the work. "They're the ones who are the heart of our operations," she said. "They do a whole lot more than guarding lives. They care a lot about our facility and they do a great job helping out — jobs that are not always the most fun to do."
Brandon Sanchez, a six-year employee, is in charge of making sure the pools are properly chlorinated and ordering the appropriate supplies. Judy Wells, whom Wily calls "our Cleaning Tsar," is another longtime employee who makes sure the staff stays on track with daily scheduled cleanings.
Perhaps the longest-running employees are Anita Aguero and Concepcion Morales, both of whom are in charge of cleaning the pool's bathrooms.
"They literally come in and work every day, and I mean every day," said Wily. "It only takes them two or three hours to do their job, but they work every day and have been doing it without fail with a smile on their faces for years and years and years. And after swim meets, too; that sort of stuff."
One big project coming up is the removal of the big canvas covers that serve as the pool's roof much of the year. The removal is coordinated to coincide with the end of the school year — this year, that will be June 14 or 15, she said. Wily, Baker, and four or five more staff members will be out in the early morning hours, over the course of a couple of days, before the facility opens for business.
Once the covers are down, they're folded accordion-style and placed on pallets, which are then stored behind the building.
"It takes a lot of people just to fold the covers," she said. "It's a really fun part of the job — a little stressful because you don't want to see a cover get ripped coming off — but it's a pretty enjoyable, hard-core process. If it goes well, it should take five to eight hours total for both days."
Wily has a long love of swimming, although other aspirations originally took her down another career path. She grew up in Durham, N.C., and graduated from the University of North Carolina at Chapel Hill with a degree in English in 1996. She then taught high school English — and was swim coach — at Jordan High School in Durham for four years before moving to Hood River.
And what brought her to Hood River? The recreation opportunities, of course, but mostly John Helleberg, another Hood River transplant from the East Coast, after meeting him through mutual friends on the Metolius River near Bend.
"We met each other and I came to visit and didn't really leave," she said.
She applied for an English position with the Hood River County School District, one that was ultimately absorbed by other staff. At that point, she decided it was time to explore other options.
She began working for Parks and Rec in 2005. She's the Aquatic Center supervisor, but she's also worked (and continues working) as swim instructor, as well as a shift coordinator and assistant manager during her tenure. And no matter where life takes her, she's been at the pool in one form or another for almost 10 years.
She and Helleberg, a native of Charlotte, Va., and executive chef at Brian's Pourhouse, had a restaurant — Sophie's Restaurant, named for their daughter — for a few years, but even then, she was working at the pool in some capacity.
"I've always been employed with Parks and Rec because I've always been teaching swim lessons or helping out in some fashion or form," she explained.
She and Helleberg have two children: Sophie, 6, and Jack, 1½. The family enjoys fly fishing, camping, windsurfing, mountain biking and skiing together, and can often be found at the swimming pool, too ("Seriously, you're talking to a diehard swimmer here," she said).
"I really love our pool, and I can't say enough about our facility," Wily said. "I think for such a small town, we really have an amazing pool and some great programs. I would just love to really see more people take advantage of the programs we offer — just coming in and taking their kids swimming in the summer.
"We have the best pool view in the country," she added. "You can swim laps and see an amazing view."
Latest stories
Latest video:
Advertisement: Local Appreciation Sale at Big Winds