If a woman is worried about body image, how can she be fully present?
"The Good Body," written by Eve Ensler and directed by Judie Hanel, takes a hard look at what women do to themselves in the pursuit of a "good body." Told through multi-character monologues, "The Good Body" features a global cast of characters, most of whom are striving for physical perfection for a variety of reasons.
"Among the play's most salient messages is the notion that ever-present self-criticism and physical obsession have effectively distracted many women from engaging with the world in significant and tangible ways," said Hanel. "However, I do think there is something very positive to be said for having the opportunity to absorb and consider other women's experiences that may be similar to — or different from — one's own."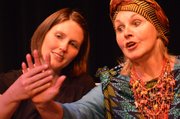 The Good Body runs May 8-10 and May 15-17 at 7:30 p.m., and May 11 at 2 p.m., at Columbia Center for the Arts, 215 Cascade Ave. in Hood River.
Tickets are $18 for adults and $15 for students and seniors, and are available at Waucoma Bookstore, Columbia Center for the Arts, and online at columbiaarts.org. Because of mature subject matter, this play may not be suitable for a young audience.
Hanel is joined by Kathy Williams, stage manager; Kathy Crow, lighting design; Bruce Ludwig, technical coordinator; Robin Allen of That's Swank, costumer; and Irene and Adrian Fields, set design.
The role of Eve is split between Julie Jindal and Jessica Metta, both of whom appear on stage simultaneously. Eve hates her 40-ish stomach; once flat, all she wants is the flab to go away. In her opening monologue, she explains the great lengths she has gone to eliminate the "flabby badness" from her body, including Ab Rollers, fanatical trainers and a ban on bread and ice cream.
Eve is soon joined by a number of other women telling similar stories despite their varied backgrounds: The young Latina candidly critiquing her humiliating "spread," the wife of an LA plastic surgeon who is reconstructing s her body inch by inch, and an aging magazine executive still seeking youthful perfection.
These are stories of Botox, piercings, super foods and self-imposed hunger; of manipulating bodies in all possible ways; of rage and hatred and sadness.
But as the story unfolds, Eve is also introduced to women who have made peace with their bodies, such as the African mother who sees each individual as a celebration of nature's diversity, the Indian woman who relishes her curves, and the veiled Afghani woman willing to risk imprisonment — or even death — for a dish of ice cream.
"Ultimately, these monologues become a personal wake-up call from Eve to love the 'good bodies' we inhabit," said Hanel.
This isn't Hanel's first time directing an Eve Ensler play. In 2007, she directed "The Vagina Monologues" to sold-out crowds. "When Eve's new show came out — 'The Good Body' — I read it and felt, once again, the show spoke to women about the relationship they have with their bodies," said Hanel.
"I think this kind of show can lessen feelings of alienation," she said, "and if women feel less alienated in regards to their concerns and insecurities, if they realize they are not alone in feeling certain ways, then perhaps such knowledge can serve as a catalyst for them to become more proactive in attempting to move forward with some alternatives or solutions. Also, the play is very funny and poignant.

"I also feel it is a good reason to gather your girlfriends for a night out and come celebrate what brings us all together in sisterhood," Hanel added. "Feed your 'good body' and soul."
More like this story
Latest stories
Latest video:
Advertisement: The Men of Black Friday
The secret agents of Big Winds may not exactly be Tommy Lee Jones oand Will Smith, but they still discovered there is plenty of strangeness to be found in Hood River...especially once winter sets in. Enlarge