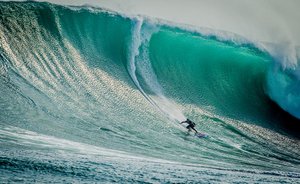 If you've lived in Hood River long enough, chances are you've seen Richard Hallman's photography somewhere and thought to yourself, "What a lucky punk." The guy gets to travel around the world taking pictures of amazing places and crazy people doing things the rest of the world has to daydream about from the confines of their workstations and living rooms. Of all the adventures Hallman has experienced and documented in his years as a photographer, he says big wave surfing holds a special place in his soul. Like the surfers who risk life and limb and sacrifice their livelihoods to ride these giants, Hallman has found himself captivated by the power and energy of mother nature's greatest force. After traveling much of the Pacific Ocean this spring in search of waves, Hallman found himself in California earlier this month for the annual Billabong XXL Big Wave Awards, where a couple of his pictures were among the select few being considered for the year-long, worldwide big wave contest. Upon his return, Hallman took the time to reflect on his love affair with big waves, his goals as a photographer and on one crazy day at Oregon's Nelscott Reef that has proved to be a pivotal experience in his life and career. –– Adam Lapierre
It's October in the Pacific Northwest, and as the days become shorter and cooler, most people begin the mental transition to thoughts of the long, wet winter months. But this is also the beginning of the big wave surfing season in the northern hemisphere, and as storms begin piling up in Japan, Siberia and Alaska, the excitement and anticipation builds for big wave surfers from around the world.
These winter storms march unobstructed across the northern Pacific, and thanks to high-tech satellites, we can track their every movement and calculate their exact time and place of landfall. Like a long-lost friend we haven't seen for years, we wait with great excitement for their arrival.
For big wave surfers, the chance to ride the monster waves these storms drum up is what they live for and define their lives by. For an action-sports photographer like myself, it's a chance to document that special reunion between big wave surfers and the waves they travel the world in search of.
Waves and water are in my blood. Growing up on the southernmost tip of Lake Michigan, we surfed the waves created by fall storms that hit the Midwest. Although I've never been a great surfer, the sport has always held a peculiar fascination in the recesses of my mind.
In 2005 I was lucky enough to be at the inaugural Nelscott Reef Big Wave Surf Classic, a surfing competition held in Lincoln City, Ore. When you consider the limited number of true big wave breaks that exist across our vast planet, Nelscott is practically in our back yard. A chance encounter with one of the organizers of the event, Adam Wagner, has led to a lifetime friendship and partnership, and I have been fortunate enough to be the official photographer for this incredible event ever since.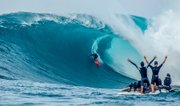 The stars don't align all that often for optimal big wave surf conditions; there's a fussy set of circumstances that need to fall into place for it to happen. You need big waves that have traveled thousands of miles, but as they approach land, the wind needs to be offshore to help flatten out the surface and take away the chop. You need a storm to bear down on you for days; then, ideally, you need that same storm to track in a different direction at the last moment, allowing the waves to continue on their way toward shore.

One of these perfect days came on Nov. 2, 2010; a date I will never forget. The Nelscott contest had gone to yellow alert the week before, which means there was a possibility conditions would become favorable over the next several days. Typically, organizers will decide 72-100 hours out that the conditions will be good enough to hold the contest. When the call is made, competitors — some of the best big wave surfers in the world — have precious little time to get to Oregon, some from as far away as South Africa, Australia, South America and Europe.

I awoke in my hotel the morning of the 2nd in Lincoln City and could hear the waves pounding the shore, and my hotel was not beachfront. The conditions were the biggest (and still are the biggest) the Nelscott Comp had ever seen. The bouys were reading 23.5 feet at 19 seconds. The first number is the height of the swell, the second is the time interval between the swells. Nineteen seconds is a long period, and the longer the period the bigger the waves.

It was barely dawn when we hit the beach launch at Nelscott. The sun wasn't even up yet and there was already carnage as waves swept up the ramp and the shoreline boiled with an angry froth the likes of which I had never seen. Initial teams were making their way out through the shore break, and as the sun broke the horizon it illuminated the mayhem in front of us. "Days like this are what we live for," I remember telling myself.

In conditions like that, there is no easy way out to the break. All the harbors had been closed by the Coast Guard and the only way out is from the beach, straight through triple overhead conditions.
Geared-up, I got into my wetsuit and connected with my Jet Ski driver for the day, local big wave ripper Jeremy Rassmussen. We hit the water, and very quickly I felt like we were on the wrong end of a crazy Hollywood action movie.

After threading our way through house-sized waves, we came over the crest of one wave to see two poor souls swimming — their personal watercraft half-sinking. In a situation like that, when it's a matter of survival for everyone, there's really not much you can do to help, so we watched helplessly as they were swallowed by a 20-plus foot wave.
After what seemed like an eternity of dodging and weaving, we made it out past the break. The actual Nelscott break is about three-quarters of a mile offshore. We positioned ourselves in the channel next to the break and watched as 40-60 foot sets rolled through. I remember watching a whale turn over in the surf, thinking, "What planet am I on?"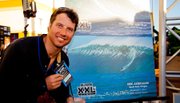 It was one of the most nerve-wrenching, and exhilarating, days of photography I've ever had. Sets would arrive like runaway freight trains, and as they met with the reef and thundered toward shore, they created crazy currents that would pull and tug on our position, sometimes pushing us into the lineup.
I especially liked when my driver would stand up on the ski and, looking off in the distance, would proclaim, "OMG, here comes the set from Tibet."

At Nelscott, there is a North Reef and a South Reef. The competition is held on the North Reef, but there were a few hearty locals who braved the extreme conditions that day to surf the South Reef. One of those was a man named Eric Akiskalian (from Towsurfer.com), who was out with his partner Keith Galbraith. I remember I could feel something big happening behind me, so I turned around and shot over my shoulder as Keith slung Erik into a monster wave that was later measured at around 60 feet.
Needless to say, after one of the craziest, most intense and most powerful days I've ever had in the ocean, I was happy to kiss the sand after returning to the beach safely that day.
I also returned with some amazing photographs, one of which, from Eric's epic wave, became a finalist for the 2011 Billabong XXL Big Wave Surf Awards.
Since then I have been chasing big waves around the planet like an addiction. I've been to breaks in Chile, Peru, Mexico and, of course, the legendary Jaws in Hawaii and Mavericks in California. This spring I was nominated for a third Billabong XXL award in four years — a trend I certainly hope to continue into the future.
It's hard to believe I've been chasing big waves for almost 10 years now. The pursuit has been extremely challenging for many reasons. It takes commitment, sacrifice, skill, patience, fortitude, risk and, of course, always a bit of luck. And then there are the unforeseen circumstances, like buying last-minute plane tickets, missing connections and losing sleep that add to the stress and anticipation.
In the end, though, when everything comes together, it's unlike any other feeling. Negotiating big waves has humbled me in ways I can't describe. It's a labor of love that one surf photographer had once quipped, "If I'm just scraping a living, then it's a life worth scraping and although I may never be a rich man at least I'll have a tale or two for my niece. And I dig the thought of that."
Latest stories
Latest video:
Parkdale third graders sing "12 Disaster Days of Christmas"
Welcome to your sing-able Christmas gift list. What follows is an emergency rendition of "12 Days of Christmas" – for outfitting your home or car in case of snow storm, earthquake, flood or other emergency. Read it as a simple list, or sing it to the tune of "12 Days" – you know, as in " … and a partridge in a pear tree…" Not to make light of it, but the song is a familiar framework for a set of gift ideas that you could consider gathering together, even if the recipient already owns items such as a bunch of coats, tire chains and flashlights. Stores throughout the Gorge are stocked up on all these items. Buying all 12 days might be prohibitive, but here are three ideas for checking any of the dozen off your list (notations follow, 1-12.) The gift items needed to stay warm, dry and safe are also coded to suggest items in your abode (A) in your car (C) or both (B). 12 Gallons of Water (A) 11 Family meals (B) 10 Cans of propane (A) 9 Hygiene bags (B) 8 Packs of batteries (A) 7 Spare coats (B) 6 Bright red flares (C) 5 Cozy blankets (B) 4 Tire chains (C) 3 Flashlights (B) 2 cell phone chargers (B) 1 And a crush-proof first aid kit (B) Price ranges? Here's a few quotes for days Three, Two, Four and Nine: n A family gift of flashlights (three will run $15-30, Hood River Supply, Tum-A-Lum) n Cell phone chargers (two will run $30-60) n Tire chains (basic set, $30, Les Schwab, returnable if unused for the winter) n Family meals ($100 or so should cover the basics for three or four reasonably well-fed days) n The home kit should be kept in a handy place near an exit, and remember that water needs to be replenished every few months. If you have a solid first aid kit already, switch out the gift idea with "and-a-sto-o-u-t- tub-for it-all …" Otherwise, it's a case of assembling your home or car kits and making sure all members of the family know what the resources are and how to use them (ie flares and propane). Emergency situations are at worst life-threatening, at best deeply uncomfortable if you and your family are left without power for an extended period, or traveling and find yourself in a situation where you need to wait out a storm, lengthy traffic delay, or other crisis. Notes on the 12 gift ideas: 12 – Gallons of water: that's one per person in a four-member family to last for three days, the recommended minimum to be prepared for utility outages. 11 – Easy-open packaged goods, energy bars, dried food and nuts are good things to include for nutrition. Think of what your family of four needs for three days to stay fortified and hydrated (see number 12). Can-opener also recommended 10 – If you have a propane camping stove, keep extra fuel handy. 9 – Hygiene bags: put packaged moistened towelettes, toilet paper, and plastic ties in large garbage bags (for personal sanitation) Resource list courtesy of Hood River County Emergency Management, Barbara Ayers, manager/ 541-386-1213. The county also reminds residents to Get a Kit, Make A Plan to connect your family if separated, and Stay Informed. See www.co.hood-river.or.us to opt-in for citizen alerts. Enlarge